Ultra 9K Refinish System Helps High-Volume Auto Body Shop Get It Right the First Time
Written by Autobody News Staff
Published Oct. 12, 2022
In 1979, Lee Amaradio opened a small shop in Mission Viejo, CA, with a business partner. Amaradio wanted to name it Faith Auto Body, while the partner wanted Quality Auto Body, so they compromised, and Faith Quality Auto Body was born.
A year later, Amaradio bought out his business partner, and a decade after that, in 1990, he moved the shop into a bigger space in Murrieta.
Since then, he has bought the three lots next door and built another building on each. Faith Quality Auto Body now comprises four buildings at the same location, totaling 34,000 square feet of production space.
Faith Quality Auto Body
Location: Murrieta, CA
(951) 698-8215
www.faithqualityautobody.com
Facebook: @FaithQualityAutoBody
Company At A Glance...
Type: Collision Repair
Facility Employees: 50
In Business Since: 1979
Number of Locations: One
Production Space: 36,000 square feet
All that additional production space needed more work to fill it, and that's where Steve Saunders came in. Saunders had worked for a few small shops since 1987, working his way up to a general manager position, until he was hired by Amaradio in 1996.
"Lee is a super guy," Saunders said.
Saunders is now director of OE compliance and training at Faith Quality Auto Body, working to qualify the shop for as many OE certifications as possible to bring in more business volume. The I-CAR Gold Class shop now has 20 certifications, including Subaru, General Motors, Volkswagen, Honda, Ford, Volvo, Mazda and Mercedes-Benz, as well as the certifications and equipment to work on high-top vans like Sprinter, Dodge ProMaster, Nissan NV and Ford Transit, and is currently working on two more.
Saunders said thanks to the expansion of the OE certification program and Amaradio's vision to expand the footprint, the shop now repairs about 200 vehicles per month, increasing monthly sales from about $125,000 to $800,000 over 20 years.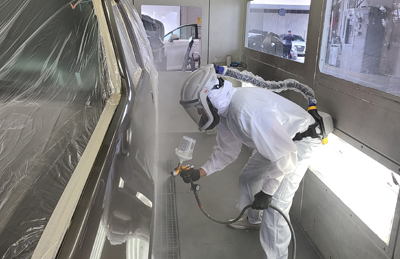 The shop and its employees' excellence have not gone unnoticed---Faith Quality Auto Body was named the 2008-09 Collision Business of the Year by Assured Performance Collision Care, and Saunders was named the 2021 Single-Shop Executive of the Year by BodyShop Business.
Saunders is also active in the industry, participating in Collision Industry Conference (CIC) meetings and serving as chair of the Riverside I-CAR Committee since 1996.
"You need to be a part of the industry; you can't just sit back and complain," Saunders said. "You have to get up and do something. Not just for yourself, but for everyone."
Saunders said Faith Quality Auto Body has been using Sherwin-Williams refinish products since 2000, but in 2017, the company switched the shop to its Ultra 9K® Waterborne Refinish System.