Nick & Ernie's Fix Auto Skokie Relies on Spanesi to Navigate Growth, Success
Written by Autobody News Staff
Published Oct. 12, 2022
Nick & Ernie's, a Fix Auto collision repair facility, has built a small empire of mechanical, collision, auto glass and truck and fleet shops in the Skokie, IL, area.
Family-owned and operated since 1969, Ernie Loggarakis and his sister, Sandy Dimoulis, now oversee the family business, which began as a service station founded by their parents.
Nick and Ernie's Fix Auto Skokie
Location: Skokie, IL
(847) 676-0420
www.nickandernies.com
Facebook: @FixAutoSkokie
Instagram: @nickandernies
LinkedIn: @fix-auto-skokie-nick-ernie-s
Company At A Glance...
Type: Collision Repair Facility
Employees: 44
In Business Since: 1969
Number of Locations: Four
Combined Production Space: 75,000 square feet
Loggarakis started working there as a teen, pumping gas and doing other chores. He went to college for two years and returned in 1986, when he bought a body shop and added collision repair to the auto mix of services.
Since that time, Nick & Ernie's has grown rapidly. To keep up with its collision repair growth, Nick & Ernie's turned to Spanesi for various equipment. Loggarakis' first purchase was the Spanesi Multibench. He was searching for equipment with a unibody lift as a smaller repair center. He bought the lift nine years ago, and it has become an important workhorse in the repair center.
He purchased the Multibench from Tim Morgan, Spanesi Americas' COO, based in Naperville, not far from Nick and Ernie's Skokie location.
"Ernie came to our facility in early 2013, with his father Nick, to look at the Multibench in our Training Center," said Morgan. "Spanesi Americas was just starting, and we discussed past vendors and a facility owner's needs. After that first meeting, it helped me create how Spanesi Americas is today: Quality products, service, support and training. No shortcuts or 'taillight guarantees' with us. We consider our clients family!"
The Multibench employs an electro-hydraulic lift suitable for lifting most vehicles. The bench lowers to a total height of just over an inch, allowing technicians to use the repair bay for multiple repair operations.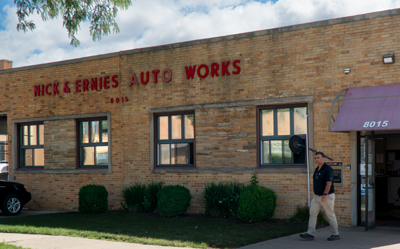 In shopping for the right equipment, Loggarakis looked at several other vendors, but none possessed the multi-tasking features of Spanesi.
"Spanesi was a perfect fit for our needs," he said.
Loggarakis was so happy with the Spanesi Multibench, he added four additional benches in 2020, when Nick & Ernie's underwent a 7,500-square foot expansion of the body shop.
With that expansion, Loggarakis also added the PULL UP! repair system for structural and cosmetic glue pulling and the Touch electronic measuring system. The Touch system allows measuring a vehicle frame and structural items, mechanical parts, user-added points with photos, wheel and tire alignment, suspension parts and comparative measurements.