Page 1 of 2
Los Angeles Repair and Restoration Shop Can Make Any Car Gleam with CARWORX
Written by Autobody News Staff
Published Oct. 18, 2022
WRC Collision is a family-owned business that focused solely on classic cars until 2020, when it expanded to also offer collision repair services to Los Angeles County.
Today, WRC Collision and its team of eight employees does everything, from eye-popping full restorations and customizations to collision body repair on any make and model.
WRC Collision
Location: Los Angeles, CA
(818) 765-8500
wrccollision.com
Instagram: @wrc_la
Company At A Glance...
Type: Collision Repair & Customization
Facility Employees: Eight
In Business Since: 1959
Number of Locations: One
Production Space: 20,000 square feet
Manager Rudy Hovsepyan has been with WRC Collision since the repair side was established.
"Our technician is [I-CAR] certified, and cars get into accidents on a daily basis," Hovsepyan said. "Our mission is to perform highly specialized repairs and our workmanship is backed up by our word.
"I just love bringing cars back to life," he said. "It's a passion."
The collision repair side of the business puts through about 45 vehicles per month, but WRC Collision has not lost sight of its original mission of Resto-Mods and custom builds. In fact, this November, the shop will display two of its custom Resto-Mods at the 2022 SEMA Show in Las Vegas---its first time showing off its work at the largest automotive trade show in North America.
The first car is a 1972 Buick Riviera. Hovsepyan said the reimagined car is "very unique."
"It's been 'murdered out;' everything is black," he said. "Everything has been handcrafted. The panels have been redesigned."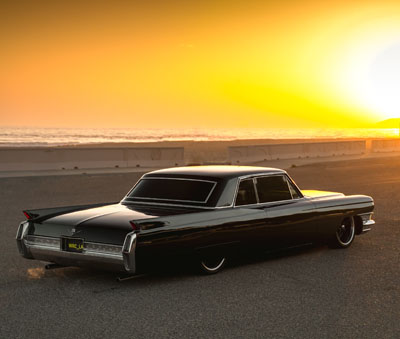 The second car is a 1964 Cadillac Coupe DeVille.
"This car is also handcrafted," Hovsepyan said. "It has no door handles, it's fully air ride equipped, with all the new tech inside the car."
To produce the best finishes on classic and modern cars alike, WRC Collision relies on clear coats, putties and fillers from CARWORX. Established in 1999, CARWORX's mission is to deliver reliable products that revolutionize the refinishing process while enhancing body shop productivity. The company offers more than 500 automotive refinishing products and accessories, and is constantly researching the market for the latest manufacturing tools and trends.