Page 1 of 2
CPS® Products' MX RRR Series Allows Technicians to Work Smarter and Win More Business
Written by Autobody News Staff
Published Sept. 21, 2023
For more than 20 years, CIV Car Care Center owner Carlos Reyes has combined his passion for automobiles with his commitment to the community.
Born and raised in Boston, MA, Reyes opened his first body shop, C&J Auto Body, in 1991 in Boston, which was eventually sold. In 2019, he established CIV Car Care Center in Hyde Park.
CIV Car Care Center
Boston, MA
617-272-3221
civcarcare.com
Facebook: @civcarcarecollisionctr
Instagram: @civcarcare
Company At A Glance...
Type: Collision Repair
Facility Employees: Six
In Business Since: 1999
Number of Locations: One
Production Space: 10,000+ square feet
The body shop prides itself on providing exceptional automotive repair services and ensuring customers' needs are met with professionalism and expertise.
Branden Naraine, body shop manager, said Reyes has built a reputation for offering top-notch service in the Greater Boston area and runs the business based on his love for cars and care for people.
"He is very generous and volunteers his time in the community," said Naraine. "It's something that is near and dear to his heart."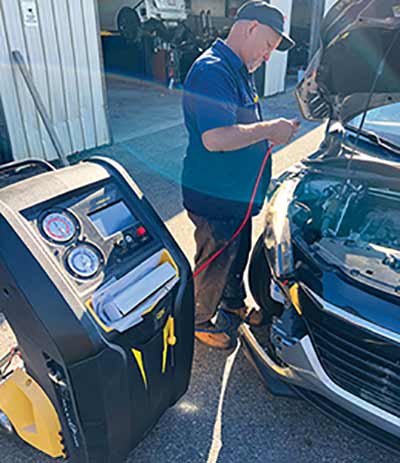 Reyes supports a variety of local charities and youth organizations in the Boston area, such as the Boston Raiders Pop Warner Football Team and YMCA Greater Boston.
"He wants to give back to the community where he was raised and helped make him the man he is today, which is a pillar in the community," said Naraine. "The positive impact that he has will ultimately change the lives of some of the youth in our city."
Since joining the shop in April 2023, Naraine has found Reyes considers his employees and customers family.
"That's what's most important to his business," he said. "We have a family atmosphere at the shop and when customers come in, they are treated like a family member."
Part of taking care of employees and customers is ensuring a safe environment in the shop.
"When a vehicle is hit in the front and you have to change the condenser and AC unit, it has to be safe for the technicians to take those parts off," explained Naraine. "It's essential to our business that we're able to be sure they are safely depressurized."
The shop purchased its first refrigerant management system from CPS Products in November 2022, the MAXXAIR™ MX3030 Refrigerant Management System.