California Auto Body Shop Uses Mitchell to Stay Ahead of the Curve on ADAS Calibration
Written by Autobody News Staff
Published Oct. 14, 2022
Lloyd's Collision & Paint Center has deep roots in the East San Diego, CA, area, where it has offered reliable, trustworthy and quality collision repair services since 1984.
Founded by Robert Lloyd Sr., it is a second-generation collision shop with its flagship location in Santee, CA, and a second location that opened in 2012 with a recent expansion in 2021 in Lakeside, CA. With its emphasis on family operations, Robert Sr. managed the estimating aspect of the operation, while Robert Jr. performed body work and Michael painted. As both facilities have flourished, Robert Jr. and Michael have taken the roles of managing the production and quality of repairs set out by the staff.
Lloyd's Collision & Paint Center
Location: Santee, CA
(619) 448-8768
www.lloydscollision.com
Company At A Glance...
Type: Collision Repair
Facility Employees: 40
In Business Since: 1984
Number of Locations: Two
Combined Production Space: 75,000 square feet
Lloyd's Collision & Paint prides itself on using the latest collision repair techniques. As a result, it knew it needed a new solution. When ADAS-equipped vehicles are damaged in a collision, their recalibration is critical to proper, safe repair. Lloyd's did not have a way to calibrate these vehicles so it sent the work back to the dealership.
"ADAS is quickly expanding," said Robert Jr. "We would receive vehicles and they would have codes come up representing the ADAS. We would then have to take them to the dealership to calibrate and align them. Sometimes when we would get the vehicle back from the dealer, there would still be an issue and we would have to send them back to get re-done."
The entrepreneurial-minded Robert Jr. decided to open a mobile calibration business with his wife, Brittney. They are now able to service vehicles that have been in a collision at their facility, as well as vehicles that maybe just had a simple windshield replacement or alignment that required recalibration.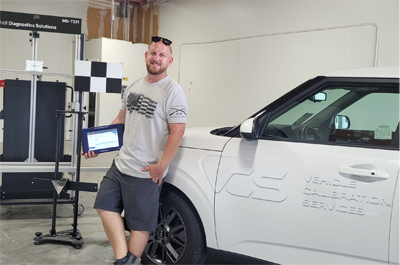 Lloyds Collision & Paint turned to Mitchell International, Inc. for its calibration target system. The repair shop already used the Mitchell RepairCenter management system and Estimating Software. From a business operations perspective, it made sense to use Mitchell's calibration system to streamline operations seamlessly and better manage business processes.
As a result, they invested in the MD-500 all-in-one scan tool and MD-TS21 target system, which combine Bosch's comprehensive vehicle coverage and hardware with the ability to run Mitchell's full suite of cloud-based repair solutions.