Page 1 of 2
WIN Hosts Annual Educational Conference
Written by Abby Andrews, Autobody News
Published May 12, 2023
The Women's Industry Network (WIN) held its annual Educational Conference, May 1-3 in San Antonio, TX, themed "Reimagining Tomorrow," offering a three-day chance for women in the collision repair industry to connect, learn and celebrate.
This was the second year the conference offered attendees the choice to attend in person or virtually.
In her opening remarks May 1, WIN Board Chair Tanya Sweetland thanked everyone for taking the time out of their schedules to invest in themselves and their futures. She said WIN recently hit a new record number of members---800, more than half of whom represent sponsor organizations.
The three-day event featured many inspiring speakers, including Gina Schaefer, founder and CEO of a chain of Ace Hardware stores in Washington, D.C.; Patricia Walsh, an engineer, Paralympian and world record holder in the 140-mile paratriathlon distance; Shayla Rivera, a NASA aerospace engineer who is now a corporate trainer, speaker, comedian, writer and professor; Maysoon Zayid, a comedian, actress, writer and disability advocate; and Megan Sullivan, collision program manager for GM.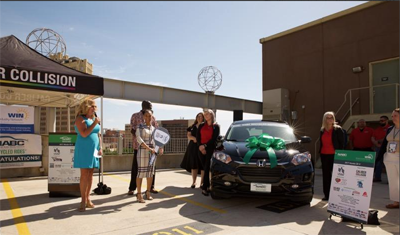 Also packed into the event were an NABC Recycled Rides presentation to two U.S. military veterans, a recognition of WIN scholarship winners and a gala awards ceremony, to recognize this year's Most Influential Women winners.
Attendees also had two opportunities to give back, making no-sew blankets and writing cards for the troops via the nonprofit Soldier's Angels, and participating in a walk to raise money for WIN's scholarship fund.
Hiring and Retaining Employees Panel Discussion
On the second day, Jamie Shackleford of Caliber moderated a panel discussion on "Hiring and Retaining Good People," joined by Jennifer Mayer of the TechForce Foundation, Keith Schaefer of Universal Technical Institute, Sullivan of GM, Mica Carawan of USAA, Olivia Peterson of Gerber Collision and Glass, and Yohanna Peet of Caliber.
The panelists talked about how to market the industry to Gen Z'ers aging into the workforce, cast a wider net when "fishing" for talent and retain good employees.
Petersen said the industry should be looking for people with any hands-on skills, to "find ways to translate skills that may seem completely unrelated into something they can do in collision repair."
"Anyone is a [job] candidate," Peet said.
"The pond is pretty darn dry," Mayer said. "We need to talk about how to stock the pond and bring people into the industry. Less than 3% of techs are women, so if you want to solve the tech shortage, welcome women."
Mayer also said Gen Z is socially conscious and wants to have a positive impact, so it's important the collision industry tells them why what they'd be doing matters.
Gen Z also wants to know why they should learn a skill, how they will be able to put it to use even if they change careers, what pay and career advancements they can expect and how they can achieve an acceptable work-life balance.
"People fall into the insurance and collision industries," Carawan added. "We don't do enough to talk about how exciting this career is."
To retain employees, Sullivan said, help them see their path forward.
"A college grad is not just looking at the data analyst job [GM] is offering them, but looking at the lifelong career they could have with your company," she said.
Petersen said when an employee has the drive to improve, employers should do whatever they can to help them. She suggested compensating for training, to keep employees "at the top of their game when repairing these extremely sophisticated vehicles rolling out today."
Schaefer said the industry has to "stop using economics to repair cars" and pay employees more.
"We have to compensate them if we're going to keep young people in the industry," he said. "They have to buy tools to build more skills, to buy more tools, etc. That is something that's aggravated me forever. They don't see an end."
Embracing New Technology
On the third day, Charlotte Creech, executive director for innovation for USAA, presented "The Future is Now," in which she discussed how embracing advancing technology---rather than fearing it---can create unlimited opportunities amidst the unprecedented headwinds currently faced by the collision repair industry.
"There are real opportunities for us to serve our customers well while running our businesses more efficiently, by reducing friction and pain points during the repair cycle," Creech said.
Creech gave examples of technology USAA is working with, "to help spark some interest to see what the future might look like."
3D printing could speed up prototype development, augment the aftermarket repair supply chain and allow for the customization of parts, providing the "ultimate personalization opportunity."