Page 1 of 2
Top Industry Speakers Share Insight During Southeast Collision Conference in Virginia
Written by Stacey Phillips, Autobody News
Published May 10, 2023
At the second annual Southeast Collision Conference in April, collision repair professionals had the opportunity to participate in various educational sessions, attend a tradeshow with more than 50 exhibitors showcasing their products and services, and network with industry peers.
The two-day event in Doswell, VA, was hosted by the Carolinas Collision Association (CCA) and the Washington Metropolitan Auto Body Association (WMABA). A membership awards dinner was held the evening before the show celebrating those who work in the industry.
See more photos of the show here.
Jordan Hendler, executive director of WMABA, and Josh Kent, executive director of CCA, planned the event for the industry to gather and learn about topical issues impacting the industry and how to address them. For many attendees, it was the first time they attended an industry tradeshow and multi-session event.
"The conference went beyond our expectations," said Hendler. "Bringing the regional industry together, as well as many from across the country, to take part in the educational opportunities and tradeshow was a win for all those who made the effort to come."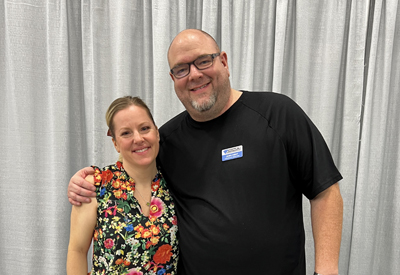 "The highlights for me included the awards dinner, where we had the opportunity to celebrate the men and women who make the magic happen in the shop," said Kent. "I also enjoyed seeing new faces walking around the tradeshow floor and the fact that our people from the Carolinas showed up and participated."
During the show, KECO Body Repair Products had the unexpected opportunity to showcase the benefits of glue pull repair (GPR) on a Lucid Motors EV door dent that was noticed while on display.
Danny Hacker, technical sales representative and master GPR trainer at KECO, used the company's L2E system to repair the dent in front of show attendees at their booth.
"Hacker was able to effectively demonstrate the advantages and effectiveness of GPR techniques on EVs with no need to power down the Lucid," said Chris White, president of KECO.
White said as the industry continues to evolve, KECO Body Repair Products remains dedicated to providing the least invasive collision repair method to increase efficiency and effectiveness. "By attending events such as the Southeast Collision Conference, KECO can connect with technicians, listen to their feedback and ensure the innovations never stop," he added.
Throughout the event, classes were held as part of the Collision Professional Repairer Education Program (P.R.E.P.) and taught by nationally recognized speakers.
Mike Anderson kicked off the sessions with his class "Be Extraordinary!" More than 200 attendees showed up hours before the doors opened to hear Anderson talk about what it takes to stand out above the crowd.
John Shoemaker, business development manager for BASF Automotive Refinishes NA, shared information about properly identifying labor types and rates.
"There was a time when a vehicle repair consisted of 70% body labor, 20% mechanical labor and 10% frame," said Shoemaker. "The evolution of vehicle design has dictated a change in that ratio, but collision centers are still accounting for labor as if nothing has changed."
He stressed the importance of assigning technicians to repairs based on their skill set, whether non-structural, structural, mechanical, electrical/diagnostic or refinish. When steps are taken to do this, he said a repair on a modern vehicle often has a ratio closer to 20% body, 60% structural and 20% mechanical, not including ADAS calibrations.
"Knowing that labor sales are the primary profit center of a collision center, explaining that labor rates should be based on the costs to perform the labor and identifying specific labor skill set will allow collision centers to maintain profitability as vehicle design and repair requirements continue to evolve," he noted.
Frank Terlep, VP ADAS services for Opus IVS, said there will be nearly 100 million ADAS-equipped vehicles on North America's roads in 2023 and more than 4.2 million will need some type of ADAS services or calibration. During his presentation, Terlep discussed the opportunities, challenges, sales, marketing and operational requirements to open and operate a successful and profitable ADAS service and calibration business or division.
"If you want to operate an efficient and profitable business, you need to standardize and automate as many workflows and processes as possible, reducing paperwork while increasing and improving your organization's documentation, documentation sharing and communications," said Terlep.
In a joint presentation by Danny Gredinberg, website administrator of the Database Enhancement Gateway (DEG), and Scott Ayers, Blueprint Optimization Tool (BOT) project development manager for the Society of Collision Repair Specialists (SCRS), the speakers talked about repair planning resources for shops and how to "Write Your Strongest Sheet." Gredinberg and Ayers highlighted free resources to maximize repairs and discussed how SCRS's Blueprint Optimization Tool (BOT) can help capture missing dollars and support charges with information from the DEG.
"The biggest takeaway using the resources is that DEG is free and BOT is inexpensive," said Gredinberg. "There is no reason that with two critical resources, we are still missing necessary/required operations that can also be supported by p pages/not included operations, as well as an ability to question the labor time if it doesn't make sense."