Page 1 of 2
Texas Collision Repair Shop Chooses Blowtherm Spray Booth for Top-of-the-Line Results
Written by Autobody News Staff
Published Sept. 20, 2023
Payne Auto Group has been serving Southern Texas since 1949, with 15 new and used car dealerships throughout the region. In 2022, the auto group decided to add its second collision repair center in Pharr, TX.
General Manager Louie Solis was hired to run Payne Pharr Collision Center. Solis said he had researched paint booths in the past, ultimately choosing Blowtherm because they are reportedly efficient, capable and reliable.
"That all turned out to be true," Solis said. "I was impressed."
Payne Pharr Collision Center
Pharr, TX
956-601-1080
www.payneautogroup.com/payne-collision-center
Company At A Glance...
Type: Collision Repair
Facility Employees: 15
In Business Since: 2022
Number of Locations: One
Production Space: 17,000 square feet
So when he joined Payne Pharr Collision Center to help outfit the repair center with top-of-the-line equipment, there was only one choice. In February 2023, the shop installed a Blowtherm World extended height spray booth, along with a mix room and prep station.
"It's like the Cadillac of paint booths," Solis said.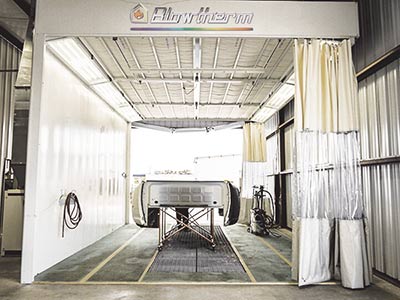 The extended height Blowtherm booth's interior measures 29' 6" long, 13' 6" wide and 11' 6" tall---which is 2' 6" taller than a standard booth, meaning it can accommodate the growing number of commercial vehicles in most any area of the country, including SUVs, crossovers, vans and pickup trucks. Solis said his shop is now one of the only shops in the area capable of servicing medium-duty commercial vehicles, a clear competitive advantage.
It fit in with other equipment the shop purchased to be able to work on larger, heavier vehicles, including lifts, frame machines and alignment machines.
"We designed the shop around being able to work on heavier vehicles and extended length and height vehicles," Solis said. "That was one of the visions that brought us to the Blowtherm extended height booth. The shop is prepared to work on any size vehicle that comes through the door."
In addition, if the shop switches to a waterborne paint system in the future, Solis said it won't have to replace its Blowtherm equipment, due to the spray booth's flexibility and massive air movement.
Of course, just having the equipment doesn't mean much if the finished product doesn't look good, but Solis said that is never an issue with Blowtherm. Vehicle parts are always sprayed evenly and consistently, Solis said, resulting in a high-quality finish every time.