Tesla Owners Club of LA Gets Up-Close Look at Repair Experience at Bistagne Bros.
Written by Ed Attanasio, Autobody News
Published March 7, 2023
On Feb. 19, Bistagne Bros. Body Shop in Glendale, CA, hosted a meeting of the Tesla Owners Club of Los Angeles, so Tesla owners could witness a certified shop in action.
Members came to Glendale for two hours on a Sunday morning for an exclusive behind-the-scenes look at the inner workings of a shop. They were able to mix and mingle with other club members, grab snacks and drinks, and find out what it takes to bring a damaged Tesla back to its pre-accident condition.
Bistagen Bros. Body Shop co-owner Robert Bistagne was delighted to sponsor the event.
"This is a great group, and they were very enthusiastic, which was nice," he said. "They were able to see a quarter panel of a Model 3 painted, and an installation of paint protection film on several panels. Tesla engineers were here to show the inner structure of a Tesla Model 3, and we also set up a table illustrating the rivet bonding process and riveting tools, where people were able to get hands-on."
Bistagne tried to create some fun activities for the club members, and based on their reactions, he succeeded.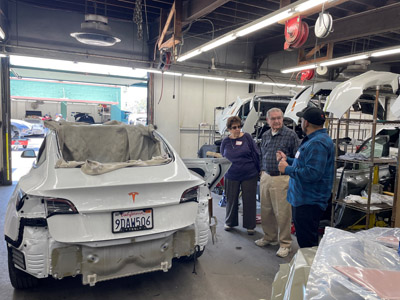 "We wanted to keep them engaged," he said. "At first I thought, how are we going to occupy these Tesla owners for two hours, and the time just flew by! They know a lot about their cars and are willing to learn more about them, which is great."
The Tesla Owners Club of Los Angeles is a community of more than 500 owners who enjoy sharing the exciting world of Tesla. The LA club is one of 80-plus chapters in the Tesla Owners Club Program. As friends and fans, the LA chapter members drive their EVs to unique Southern California locations, share Tesla tips and tricks, and support green and community outreach events. They participate in an annual statewide conference and are made up of volunteers who just love their vehicles and the lifestyle surrounding them.
LA Chapter President Jason Fudenberg, an IT director who lives in Sherman Oaks, CA, has two Teslas. Six years ago, the chapter became an official club after communicating with other owners via social media.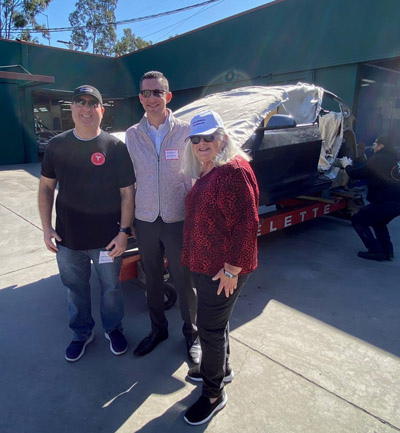 "We are a not-for profit group and we just love talking Tesla," Fudenberg said. "We have monthly events, and anyone with a Tesla is welcome to join via teslaclubla.com. The annual membership fees are $40 and once you're on the organization's mailing list, you are invited to a wide range of events held throughout Southern California."
The organization's members are from all segments of the population, Fudenberg said. "We have drag racers, moms and techies who love these amazing vehicles. We have at least one event scheduled every month, and we often add flash events to our calendar all the time."
Fudenberg is hopeful the membership of his chapter will expand based on Tesla's growing popularity, especially in the Los Angeles area. "We are no longer early adopters, but we are still as passionate about these cars as we've ever been. EVs are here to stay and we are getting more fans all the time. There is a real synergy here with Tesla owners and their cars."