Technician/Painter Recovering from Severe Burns Recognized During 11th Annual CIF Gala
Written by Stacey Phillips, Autobody News
Published Aug. 9, 2022
Members of the collision industry gathered at the 11th Annual Collision Industry Foundation (CIF) Gala in Pittsburgh, PA, on July 20 to show their support for Bryan Miller, an Ohio-based technician and painter recovering from severe burns he suffered from an in-shop fire in September 2021.
The fundraising event, held at the Howl at the Moon restaurant, was the first time CIF has hosted its annual gala since the pandemic. The nonprofit organization is committed to assisting those working in the collision repair industry through crises and tragedies.
"I'm happy to report we had record attendance," said Petra Schroeder, "Collisionista" and secretary of CIF. "About 163 individuals from all segments of the industry were present, of which 41.7% were first-time attendees."
Earlier in the year, CIF put out a call to the industry at large for the first time looking for volunteers interested in joining the organization's committees. The following individuals became part of the gala volunteer committee: Tracy Darrington, Enterprise; Matt Hamerling, Enterprise; Paul Hill, I-CAR; Tom Julius, Car-Part.com; Stacey LaViola; Cherlyn Schultz, Enterprise; Scott Stiber, Enterprise; Ann Swayka, AirPro Diagnostics; and John Webb, TenPointComplete.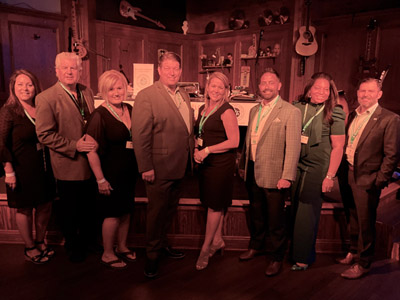 "I want to give a big shout-out to those gala committee volunteers," said Schroeder. "What they did to help us was incredibly valuable and their support was outstanding."
Schroeder said the assistance from the volunteers was instrumental in preparing the gala to help Miller and raise money for others in the industry who might need assistance in the future.
"The event provided the opportunity to bring industry individuals together as well as the opportunity for additional fundraising through event ticket sales, raffles and silent auctions," said CIF President Michael Quinn, president of AirPro Diagnostics. "At the gala, we were able to bring one of our most recent recipients of CIF support, Bryan Miller, to meet with and thank in person many individuals from organizations who provided direct support to him."
During the event, CIF Trustee Jim Ocampo, strategic accounts sales manager at Axalta Coating Systems, presented Miller with a $15,000 check. Approximately 40% of the amount was donated by the industry to a campaign specifically to help Miller, and CIF contributed the remainder.
Miller began working in the auto industry in 2016 and has spent time since then as a collision technician/painter. Last September, he was working on a motorcycle at the shop he was employed at, and a fire broke out. When Miller's body caught on fire, he was trapped in his work area before escaping out of a window. He was transported to a hospital by helicopter.
Although he survived, Miller had third-degree burns covering most of his body and multiple surgeries and skin grafts. He said he lives in constant pain and expects it will take at least a year to regain full mobility.
Miller, his fiancé, Kassi Nellett, and his cousin, Steve Legg, attended the gala to show their appreciation for the assistance provided by CIF and the industry to help him recover from his injuries and get back to work.
"I want to go back to work right now! It's my passion; I feel blessed to have found a career that's given me a sense of pride to be able to tell people what I do for a living. I just love everything about my job," said Miller in an article written by Joel Gausten.
For more information about CIF, visit www.collisionindustryfoundation.org.