Page 1 of 3
Solving the Tech Shortage: Body Shop Owners Discuss Mentorship Programs Initiated with Support from Toby Chess
Written by Stacey Phillips, Autobody News
Published July 5, 2023
Toby Chess recalls planning a collision repair training day for about 80 high school students in Hawthorne, CA, 25 years ago. Since then, he's had a passion for training young people and bringing them into the collision industry.
About two years ago, he was visiting a body shop and a newer employee was asked by his supervisor to sweep floors and do menial tasks.
"I asked his supervisor why he didn't buy him some tools so he could feel part of the team," said Chess, who ultimately bought tools for the budding technician. "The expression on his face was unbelievable."
Fast forward to the present and Chess said shops are in the same predicament as they were when it comes to hiring and retaining staff.
"We all need technicians," said Chess. "We've been talking about that for years but what are shops doing about it?"
Chess stresses the importance of keeping young people engaged and setting a career path for them.
"It's critical to find ways to motivate these young people and keep them engaged or they won't stay," said Chess, who embarked on a project to encourage independent shop owners to initiate mentorship programs.
Chess supplies a set of tools to the helper and asks shop owners to provide toolboxes. He also shares best practices documents he created that the mentor and mentee can follow to help standardize the repair and can be used in conjunction with OEM repair procedures and proper personal protective equipment. These include repair planning, corrosion protection, bumper repair, vehicle measuring and glue tab dent repair.
"We have to take steps to give back to the industry and address the technician shortage," said Chess. "Otherwise, nothing will change."
As a long-term instructor with I-CAR for more than 25 years, Chess reached out to the organization about the program. I-CAR is offering support to his endeavors and working with him to amplify his efforts.
"I-CAR is proud to support the efforts of leaders in our industry, like Toby, who are making strides to foster a learning culture and growth mindset in our shops---particularly with new technicians," said Dara Goroff, I-CAR's vice president of planning and industry talent programming. "It's an exciting time to be a professional in collision repair and we want to highlight the purpose new technicians find within it when they're presented with opportunities that contribute to a complete, safe and quality repair for the safety of their customers."
The following six shops in Southern California shared information about the support Chess has provided with their mentorship programs, supplying tools to mentees and training.
Anthony's Body & Paint
While working as a tow truck driver in the mid-1970s, Eddie Nouri admired how vehicles were repaired at the body shops he visited and eventually opened Anthony's Body & Paint in Santa Monica, CA, in 1979. Since then, Nouri has purchased about 10 other shops, built them up and sold them.
Currently, he operates a facility in Inglewood in addition to his Santa Monica location. They have a total of about 50 employees and 10 OEM certifications.
As a result of the pandemic, Nouri found they were shorthanded.
He said 20 or 30 years ago, it was common for body men to bring in relatives to the shop as helpers who eventually became technicians.
"Toby, having a good heart, suggested we hire some people, give them tools and train them," recalled Nouri.
Nouri reached out to friends and relatives who knew of unemployed individuals and hired four as helpers to be mentored by his more experienced technicians.
"I gave each technician a helper and Toby gave them toolboxes and trained them," said Nouri. "They are going to be body men within a year or two."
He encourages other body shops to do the same and help develop the next generation of technicians.
Nouri has known Chess for many years and is appreciative of the training and assistance he has provided.
"I consider myself a successful and happy person and I owe Toby a lot of gratitude because he has taught me a lot," said Nouri. "I noticed that every technician loves Toby and wants to improve themselves after working with him."
Collision Consultants Auto Body & Paint Shop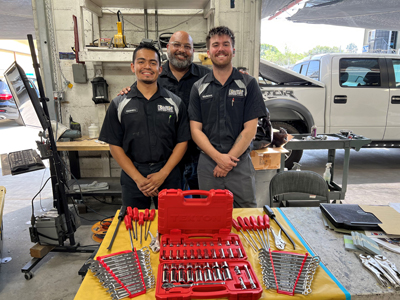 Founded in 1989, Collision Consultants Auto Body & Paint Shop is owned by Sam Zamir and his partners. Over the years, the company has built a reputation as a high-end specialist, being among the first in Los Angeles to do aluminum repairs and work on electric vehicles (EVs) and new technology in cars. The business is certified by Maserati, Mercedes-Benz, Porsche and a few other manufacturers, and is I-CAR Gold Class.
Zamir has a close relationship with several local tech schools and is often asked to speak with students about the "real-world experience."
"Because I invest so much in equipment and training and am personally knowledgeable in various aspects of the shop, I can take a student out of tech school and offer them a career," he said. "This includes ongoing training and immediate over-the-shoulder guidance while they're doing the work."