Page 1 of 2
Shop Strategies: How Hawaii Shop Ensures Customer Satisfaction and Keeps Up With Industry Changes
Written by Stacey Phillips, Autobody News
Published Sept. 8, 2023
In Hilo, HI, Manuel Soares III and his family have built a reputation for excellent customer service at their collision repair facility, MS Auto Inc.
Established more than 53 years ago, the family business repairs all makes and models and works as a team to bring cars back to their pre-accident condition.
In 1970, Manuel III's father, Manuel Jr., began doing small repairs out of his home garage. His son, known as Jr., grew up helping his dad, handing him wrenches, sanding filler and cleaning up trash.
Over the years, they moved five times and are now located on Kukila Street in Hilo, where they focus on collision repairs and custom work. Their 26 employees include Jr.'s wife, Tracey Soares, and their daughter, Macey---both of whom are production managers---as well as their son, Manuel IV, who works in the body and paint department. Macey and Manual IV are both in training and transitioning to take over the company.
Autobody News talked to Jr. about some of the challenges operating on an island and how they stay up to date with the latest vehicle technology.
How do you ensure customer satisfaction at MS Auto?
We are passionate about what we do and work hard to ensure customer satisfaction every day. Presentation is everything. You need to be optimistic when dealing with clients, and they need to have that warm and fuzzy feeling and know that you're willing to engage and move things along. If you're nostalgic and slow, they may anticipate that you will do the repairs the same way. However, if you have good energy, they will likely feel the job will get done on time. I'm out in front all the time, helping to write claims, meet customers and run the business.
I try to pre-schedule clients and provide repair expectations and cycle times. Letting them know what to expect with the repair up front and any challenges we might encounter is imperative. We want to be transparent. Sometimes, staff can forget, but that's human nature. We review the status of the vehicles with the team each day and maintain a spreadsheet.
When we deliver cars, we let customers know they will be asked to provide a review. If they need anything corrected prior to that, we are more than happy to help. We have about 1,200 online reviews through Carwise.com and I read new reviews every night. Depending on what they say, the next day I might call to follow up or thank them. By doing that, they become customers for life and tell friends and family about the great service they received.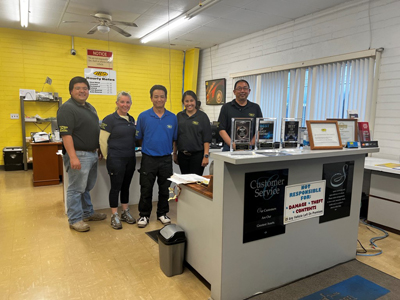 As a business owner, I'm the caretaker of the company. I value our customer relationships and feel it's important to be personable with everyone.
What are some challenges operating on an island?
We want to deliver cars on time but not compromise quality, especially with the adversities we deal with on an island. Ensuring we have supplies can be challenging because we ship them in from Honolulu. Sometimes, we can't get products so we resource what we can or surplus products.
Before the pandemic, we inventoried parts even though it was costly. I'm glad I had that foresight because it carried us through. I prioritize maintaining good relationships with my vendors and I find they put stock away for me. Currently, we're doing pretty well with parts.
I have very high expectations and tend to work with like-minded people. We are one of the biggest buyers on the island, so when we need something a little faster, I speak up and they find someone who matches our performance level.
What other industry resources have you used?
We have been members of the Society of Collision Repair Specialists (SCRS) for many years. They have great resources, databases and programs for collision repairers.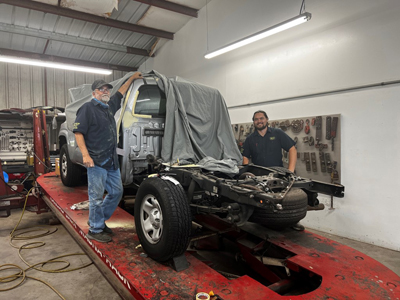 I've also had great mentors who have become friends, like Toby Chess, who is awesome, and my accountant, Paul Tsukiji. I was also close to industry veteran March Taylor; I felt we had a lot of things in common.
How do you stay up to date with new vehicle technology?
I've worked on cars almost every day since I was about 12 years old and have been involved in every aspect of the company. I try to stay ahead of the curve and keep up with the latest information and training by talking to other shop owners and OEMs.
I also reach out to dealerships to learn the latest information about new vehicles. With the technology being introduced on cars, I'm finding that today's customers spend more time researching them before making a purchase and often they know more than the salesman. I try to learn as much as possible so I'm prepared when a car comes into the shop.
What is the importance of accessing OEM repair procedures and obtaining OEM certifications?
Accessing OEM repair data is priceless. We want to make sure that cars are repaired to their pre-accident condition. Although they can never be exactly like they were pre-accident, we want to give people the sound mind they are getting a repair done the way the OEM requires it. We also want to protect the auto manufacturers' brand and ensure customers are safe for the life of the vehicle. To do a quality repair, we have put an emphasis on obtaining OEM certifications. We are currently certified by Chrysler, FCA, Hyundai, Kia, INFINITI and Nissan.