Patterson Auto Body Describes Hunter Engineering as 'Leader in Innovative Technology'
Written by Autobody News Staff
Published Oct. 17, 2022
Patterson Auto Body is a mechanical repair garage, gasoline convenience store and collision repair center in Patterson, NY.
"There's a lot of moving targets on the property," said co-owner Jim Byron, who runs the shop with his business partner, Ron Christie, and son, James Byron.
Jim and Ron opened Patterson Auto Body in 1983 and moved to their current 13,000-square foot facility in 1984. Autobody News asked Jim and James how Patterson Auto Body stands out in the industry.
Patterson Auto Body
Location: Patterson, NY
(845) 878-3456
www.pattersonautobody.com
Facebook: @PattersonAutoBodyNY
Instagram: @pattersonautobody
Company At A Glance...
Type: Collision Repair
Facility Employees: 27
In Business Since: 1983
Number of Locations: One
Production Space: 13,000 square feet
"We're family-owned and operated, and we work with vehicle owners and their third-party payer openly and honestly," Jim said. "Collision repair is an industry we all need to come together under a common goal: prioritize the vehicle owner's safety first and foremost."
Jim added that his whole team, from management staff to technicians on the floor, prioritizes correct repairs as job one.
"As an I-CAR Gold Class shop, we are diligent about our training," said Jim, a former I-CAR trainer. "We take our education and desire to be in this industry very seriously."
On top of that, Patterson Auto Body holds multiple OEM certifications, including GM, Chrysler FCA, Ford, Subaru, Honda/Acura, Hyundai, Kia, Nissan and Infiniti.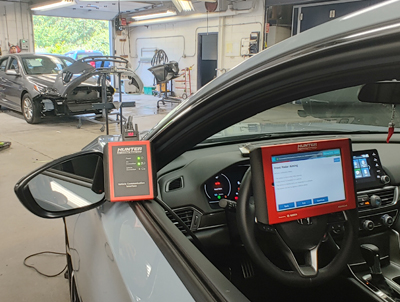 Performing vehicle alignments with the HawkEye Elite® by Hunter Engineering is another way the team ensures driver safety.
"Performing alignments after any collision should be mandated," said Jim. "I'm a firm believer in that, especially when components are being replaced, like bumpers or repairs such as core supports."
He explained no matter how minor the collision, there's always a possibility the vehicle alignment was compromised.
"Even the inertia of the vehicle coming to an abrupt halt can cause a reaction in the steering alignment," Jim said. "So, a simple adjustment can save customers hundreds of dollars down the road by preserving the tires and preventing additional uneven pressure on the rest of the steering and suspension components."
Jim added that checking the suspension alone helps uncover issues hidden from the naked eye, such as bent or worn parts.