On The Lighter Side: Bruce Springsteen's 1969 Chevelle Is Up For Grabs
Written by: Steven Symes, Motorious
Published May 10, 2023
Do you want to drive like The Boss?
The very car Bruce Springsteen referred to in his hit song Racing in the Street is heading to the auction block and it's getting a lot of attention. Understandably, a lot of people want to cruise down the road in the same ride as The Boss back when he was at his peak. Also, the 1969 Chevelle looks fantastic.
The Chevy, which is being offered to the public through Mecum Auctions' Indy 2023 event, was apparently owned by Springsteen from 1981 until he gave it away in December 1987, is of course almost as famous as the musician himself.
While it was a beloved muscle car, the story is that The Boss gave it to his recording engineer and mixer Toby Scott as a Christmas present in 1987. We can only imagine the shock of receiving such a gift knowing what the Chevelle meant to Springsteen.
Scott almost immediately put the Chevelle through a rotisserie restoration. For reasons which aren't entirely clear, that process lasted all the way into 2020 when the car was finally completed. Ultimately, this ride was made just as it was described in Racing in the Streets, so that's adding to the excitement people have about the upcoming auction.
You might have seen this ride when, starting in August 2020, it was put on display at the Rock and Roll Hall of Fame in Cleveland. It was featured along with Springsteen's surfboard, making for a memorable sight for fans.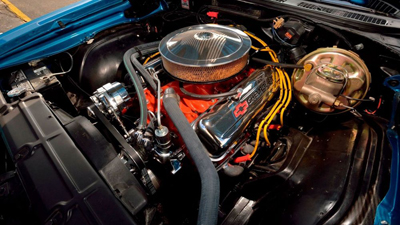 That curvaceous LeMans Blue body looks great, especially paired with white bucket seats. There's a period-correct radio that's not hooked up to the speakers. Not only does this '69 Chevelle look great, it packs a wallop with a 396 big block V8 paired to a 4-speed manual with a Hurst shifter.
We thanks Motorious for reprint permission