Mountain View Auto Has More Time with Customers Thanks to CCC
Written by Autobody News Staff
Published Oct. 18, 2022
What started as a diner company in the '30s got its humble beginnings in collision repair when Mountain View Auto opened in 1957 with Les Daniel II, succeeded by Les Daniel III in the '80s.
Despite his shop owner lineage, Mike Daniel, son of Les Daniel III, said he didn't see himself following suit until six years ago.
Mountain View Auto
Location: Wayne and Ridgewood, NJ
(973) 694-1433
www.mtviewautobody.com
Facebook: @MountainViewAuto
Instagram: @mountainviewauto
Company At A Glance...
Type: Collision Repair
Facility Employees: 49
In Business Since: 1957
Number of Locations: Three
Combined Production Space: 57,000 square feet
"I went to college, got my CPA license, and worked at Deloitte and Touche in financial audit and finally in mergers and acquisitions," explained Daniel. "As years passed, conversations began with my dad as to what the next steps would be for the business."
After five years at Deloitte, Daniel began worrying he'd wake up in his 40s and regret not giving the auto body industry a shot.
"We discussed keeping the company status quo as I continue on my financial career path or join the family business," he recalled. "So, after thinking about my father's success, I decided to go for it."
About four years ago, Mountain View Auto added a second shop and recently made a sizable addition. The Wayne, NJ, business then expanded to three locations a year ago.
When hiring and maintaining quality technicians, Daniel said Mountain View Auto is thankful to be one of the few shops with little to no issues.
"If you're efficient and run your body shop the right way, your technicians and your labor not only are your highest cost, they're also your biggest profit," he explained. "We treat our people properly."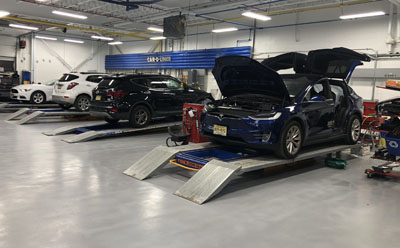 On top of that, Daniel said Mountain View Auto always stays updated on the latest technology.
"About five or six years ago, I attended a trade show and saw the capabilities CCC Intelligent Solutions had compared to the program we were using," said Daniel. "I told my dad, 'We got to make the switch.'"
He said they haven't looked back since.
"Now, here we are, with CCC pretty much running our operations," Daniel added.
Daniel said using the CCC ONE® platform has benefitted their collision repair business in various ways.