Page 1 of 2
JDM Collision Depends on I-CAR Training to Repair Vehicles Properly & Acquire OEM Certifications
Written by Autobody News Staff
Published Sept. 21, 2023
As a child, John Melendez spent much of his time at his father's body shop, John's A1 Body Shop in East Chicago, IN. In 1996, Melendez began working at a multi-line dealer with 19 stores in Park Forest, IL. He purchased the dealership's body shop in April 2005, and renamed it JDM Collision, incorporating the initials of his name, John David Melendez. Later, the facility moved to Olympia Fields and was sold in 2015.
Melendez bought a second collision repair facility in Lansing, IL, in 2010, which was moved five years later to a more modern, updated center in Thornton, IL. The company currently operates the one location in Thornton and prides itself on staying educated about the latest technology and repair methods to fix cars properly.
JDM Collision
Thornton, IL
708-877-7300
Company At A Glance...
Type: Collision Repair
Facility Employees: 10
In Business Since: 2005
Number of Locations: One
Production Space: 13,000+ square feet
The business owner attributes his success to focusing on continuous training and improvement.
"What helped get me in the position I'm in today is education," said Melendez, a certified GM technician and mechanical technician.
A key element of the education is provided by I-CAR, the Inter-Industry Conference on Auto Collision Repair. The international nonprofit organization is dedicated to providing information, knowledge and skills required to perform complete, safe and quality repairs.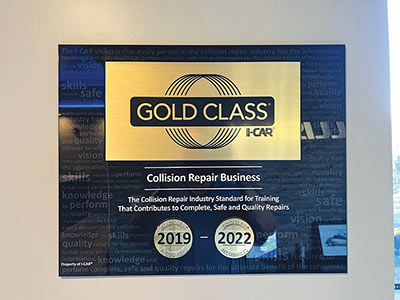 Melendez began attending live I-CAR courses in 2015.
"I took a liking to it and then became serious over the years," he recalled. The business achieved I-CAR Gold Class® recognition starting in late 2018 and continuing into 2019. At the same time, JDM Collision was recognized as a certified GM repair center.
Since taking his first I-CAR class, Melendez has noticed I-CAR always seems to provide the latest training and development for the collision industry. This includes a portfolio of more than 300 online, live, virtual and in-shop courses.
Whether an employee is focused on becoming an ADAS or non-structural technician or estimator, or taking on another role in the shop, such as production management, there is a path available through I-CAR. A variety of programs are also available, including Hands-On Skills Development™, vehicle and technology classes and welding certification.
"Our employees are learning as we go along," he said. "It has been fun and interesting and keeps you sharp."
Since the pandemic, many technicians have become accustomed to taking online courses.
"Technicians can now complete online courses during a workday, and I'm not taking away their personal time," explained Melendez. "That has really helped my business grow and become more efficient."