Industry Veteran Frank Terlep Sells Company, Receives Three Awards at SEMA, Named CIC Chair
Written by Stacey Phillips, Autobody News
Published Nov. 8, 2022
A little over three years ago, Frank Terlep co-founded Auto Techcelarators to help the auto, collision, glass, insurance and truck industries properly estimate, calibrate and validate advanced driver-assistance systems (ADAS) repairs and calibrations.
As CEO, Terlep and his team developed Test Drive CoPilot™, a platform designed to change how ADAS safety system verification test drives are performed, managed and documented. They also created Calibration CoPilot™ to properly operate and manage ADAS service and calibration businesses, and ADAS CoPilot™, an ADAS and calibration information, knowledge and repair procedure mobile app and web portal.
The entrepreneur has worked in the automotive industry for more than 40 years, dating back to 1984, when he launched his first technology business with a $100,000 investment from an angel investor and developed one of the first software applications for the automotive aftermarket industry.
Since then, he said he has helped design and launch the industry's first Windows-based estimating and management system, the first online parts procurement platform, the first mobile app and digital marketing platform, as well as a remote scanning and calibration software platform. He also authored a book, "Auto Industry Disruption, Who and What is Being Disrupted and What to Do About It."
In October, Auto Techcelerators was acquired by Opus IVS™, a global diagnostics, ADAS calibration, programming and on-demand remote support company.
At the 2022 SEMA Show held in November in Las Vegas, NV, Terlep was honored for his hard work and dedication over the years. During the event, he was inducted into the Hall of Eagles, the collision industry's Hall of Fame; received a SEMA Best New Product Award in the category of Collision Repair & Refinish; was given a Chairperson's Award for co-chairing the CIECA Emerging Technologies Committee; and was named chairman of the Collision Industry Conference (CIC).
Autobody News recently had the opportunity to ask Terlep about his accomplishments and what he attributes his success to.
What prompted the sale of Auto Techcelerators to Opus IVS and how will this impact Auto Techcelerator's focus?
The sale to Opus IVS started with a phone call from Brian Herron, the CEO, inquiring if we had an interest in selling our company. After multiple phone calls and a trip to the Opus IVS office, it became apparent that our organizations had many synergies and business opportunities if we integrated Opus IVS solutions with our technologies. Based on the synergies and opportunities, the decision to sell the company to Opus IVS was easy.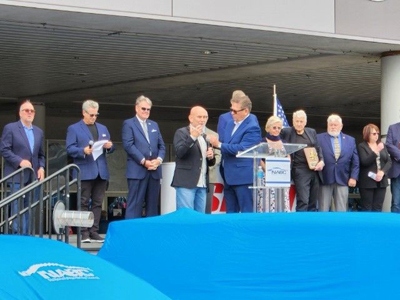 I think the acquisition will allow Opus IVS to make a much bigger impact on the industry when it comes to ADAS services, calibrations and validation. When we combine our technologies, we hope to deliver a single end-to-end diagnostic, ADAS, calibration and validation platform that everyone in the automotive, collision, glass, truck and insurance companies can benefit from.
The acquisition will also allow us to expand the sales and marketing of our existing Auto Techcelerators CoPilot suite to existing and future Opus customers in North America, the UK and Australia.
With the sale of the company, what will your new role be?
My new title is vice president of ADAS solutions. My focus will be on designing, developing and delivering this platform. It will also include educating the industry on the importance of proper diagnostic, ADAS, calibration and validation processes and documentation.
Based on previous experiences with Auto Techcelerators and other corporations, I am sure I will be involved in other aspects of the company, such as business development, marketing, sales, etc. I want to help the company and its employees be successful.
Congratulations on the awards you received during the SEMA Show, including being inducted into the prestigious Hall of Eagles. Only a few distinguished individuals receive this honor for their contributions toward the betterment of the industry. What do you attribute your success to?
Humbled… honored… thankful… When I started in this industry in 1984, I had no idea my "collision industry adventure" would take me to where I am today. When I look at the names of previous inductees, I never thought my name would be added to this list of industry icons.
I am thankful and blessed to have met thousands of great people in this industry who have had a positive personal and professional impact on me and allowed me to learn from them.
I attribute my success to hard work, perseverance and always striving to "do the right thing," as well as listening and being willing to help anyone who needs it.
What was your reaction to receiving the SEMA New Product Award for Test Drive Co-Pilot?
I was at dinner with some of my new Opus teammates when I was told. As you can imagine, I was shocked, excited, happy and satisfied! I had to call Jordan Hendler, the administrator of CIC, at 8 p.m. the night before the CIC meeting to reschedule my committee presentation the next morning so I could attend the SEMA Awards Breakfast and receive the award.
When someone like me invents something from an idea and receives this type of award, it validates all the blood, sweat and tears it took to launch a product like Test Drive CoPilot.
It was also very satisfying to have Test Drive CoPilot receive runner-up in the new ADAS Product Category, be selected as a top five finalist in the SEMA Launch Pad competiton, and receive the SEMA Global Media Award.
What is the importance of being involved as the co-chair of CIECA's Emerging Technologies Committee and helping to create new standards for the collision industry?
Being co-chair of the Emerging Technologies Committee with Gene Lopez from Seidner's Collision allows us to "see around the corner" on what and potentially how "the next big thing" will affect our industry and how CIECA needs to get involved. CIECA plays such an important role in data and technology and I believe the Emerging Technologies Committee plays a critical role in helping CIECA understand and prepare for future standards.
As the new CIC chairman, what is your goal during your term and what are you most excited about?
I am humbled and honored to be selected as the next CIC chairman for 2023 and 2024. I know I have a lot of big shoes to fill but I am excited about the opportunity. Darrell Amberson, the past chair, really raised the bar, so I hope to raise the bar even further. I am most excited about my opportunity to lead an organization and work with committed people who can positively impact the collision industry.
I have a few goals and objectives during my term. This includes continuing to "raise the bar," as past chairs Jeff Peevy and Darrell Amberson have done over the past four years. I would also like to position CIC as THE industry event to learn from, contribute to, participate in, network, challenge industry norms, debate, have fun and leave each meeting wanting to come back. I will challenge "the body" to become more engaged, more vocal and, when appropriate, more provocative. Overall, I want to leave CIC better than it was when my term ends.