Goliath Carts, Hunter Engineering Win Best New Product Awards at SEMA 2023
The companies were winners in the collision repair and refinish and ADAS product categories, respectively.
Written by Abby Andrews, Autobody News
Published Nov. 2, 2023
Hunter Engineering and Goliath Carts started off the 2023 SEMA Show with a bang, both being named winners of Best New Product awards, presented at the Kick-Off Breakfast before the show opened Oct. 31.
Goliath Carts took top honors in the collision repair and refinish category for its destructive test weld stand, while Hunter won the ADAS Product category for its Ultimate ADAS.
Collision Repair & Refinish Winner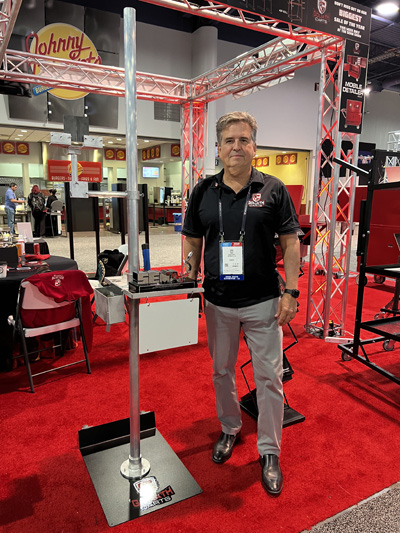 Dito Diez, lead engineer and owner of Goliath Carts, said his company developed the destructive test weld stand after being challenged by Mike Anderson, president of Collision Advice, and his Spartans Group. Anderson is a big proponent of destructive test welding, saying not doing it as part of the repair process "would be like an automaker not doing vehicle crash testing before selling a new model of vehicle."
Goliath Carts worked with a focus group of about 10 of the best shops in Anderson's group to figure out what features were necessary.
The result is a stand that can be bolted to the ground or a bench, or a mobile version that can be moved from vehicle to vehicle, Diez said. The stand has a wet/dry box to hold hot coupons after welding, and a white board where photos and other information can be tracked for insurance purposes. A cubby holds tools like the welding gun tip and pliers, and a table holds odds and ends.
The most important feature is an articulating coupon holder, Diez said, that can handle multiple thicknesses and sizes, and moves up and down and around the post.
"It can do all of the types of welds in all of the positions, and that's the important thing," Diez said. "You can overlay them, lay them side to side, put a plate behind them. Anything you can think of as far as performing a test weld, you can do on this thing."
Diez said it was exciting to hear his company's name called as the award winner.
"We're just fortunate that Mike Anderson and his group gave us the challenge," Diez said. "We met the challenge and we're very excited to win the award and to be associated with the Spartans Group."
The destructive test weld stand is in stock and available now.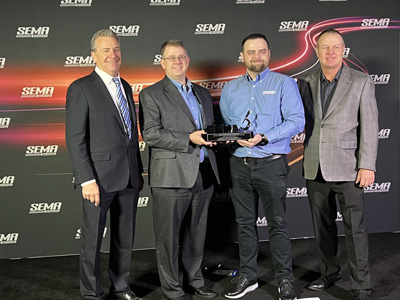 ADAS Product Winner
Hunter Engineering won the ADAS Product category for its Ultimate ADAS, eliminating the error-prone manual layouts traditionally associated with static ADAS calibrations.
The system seamlessly integrates Hunter's renowned alignment technology with an efficient guided target placement system, delivering comprehensive around-the-vehicle coverage. The pivotal component of this technology is the gimbal-mounted lasers, which replace the imprecise guesswork of strings, plumb bobs and tape measures. This advancement results in an impressive 70% reduction in setup time for certain procedures.
"It's named Ultimate ADAS for a reason," said Ryan Gerber, Hunter product specialist for ADAS. "It's the fastest and most precise ADAS calibration system available."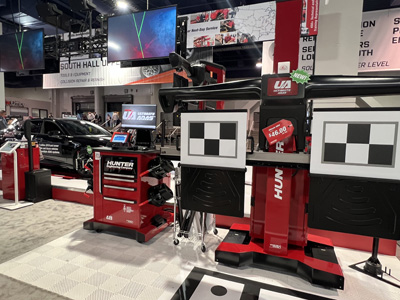 "All of Hunter is so proud to win the SEMA New Product Award for Ultimate ADAS," said Pete Liebetreu, vice president of product management and marketing. "Bringing this innovative product to market took a huge team of engineers, developers, U.S.-based manufacturing and of course, the interest of our customers and partners. It was a huge effort and the team at Hunter is very proud of this prestigious recognition."
Ultimate ADAS is currently exclusively available to Honda and Acura dealers, with plans to expand its availability to other OEMs in 2024.
For additional information on Ultimate ADAS, visit Hunter Engineering's website.