Economist Tells Collision Repairers at MSO Symposium: 'Beware the Economic Narrative'
Written by John Yoswick, Autobody News
Published Nov. 9, 2022
While inflation, supply chain issues and labor shortages have many on edge about the U.S. economy, Christopher Thornberg offered a fairly positive message to collision repairers at the MSO Symposium in Las Vegas on Oct. 31.
Thornberg, who holds a doctorate in business economics from UCLA and is founder of Beacon Economics in California, said those worried about the current gloom-and-doom headlines about the economy should go back and look at similarly worried predictions not only at the start of the pandemic, but even back in 2019.
"Look, take a step back and recognize that these stories you are seeing year after year are a hell of a lot scarier than the world around us," Thornberg said. "So beware the narrative. We live in odd times, but it's not a recession, and indeed I don't expect any kind of recession in the near term. There is so much pent-up consumer demand in our economy right now."
He acknowledged higher interest rates are cooling off home prices, but "the fundamentals of real estate are actually still very good right now." Inflation will burn out on its own, he said. While an inflationary economy is brittle---"If a real shock does pop up, it could cause real problems"---"the scariest thing to me is still the narrative," he said.
For collision repairers, a slowdown in the construction industry will free up shipping container capacity for other goods, likely easing supply chain issues, Thornberg said. And someone who finds themselves priced out of the housing market may decide to buy a new car instead.
"If you're just looking at people buying and driving cars, I don't expect that to slow down at all," Thornberg said. "Look at the roads. Everyone is driving. The federal funds rate does not keep people from getting on the road."
No Quick Drop in Shops' Backlog Forecast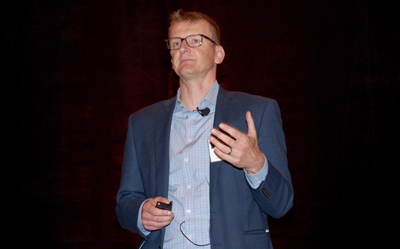 Also offering mostly good news for body shops moving into 2023 was Bart Mazurek, vice president of consulting services for CCC Intelligent Solutions' automotive services group. He told MSO Symposium attendees he doesn't expect the record-high average backlog of work at body shops across the country to decline much before mid-2023 at the earliest. The labor shortage is a key cause, he said, and there's actually been some decline in enrollment and graduate counts in collision training programs.
"While supply chain issues will alleviate [next year], that's not going to cut these backlogs in half," Mazurek said. "Realistically, they will probably get worse in the interim, and then mid-next year will start to come back down. But I don't anticipate them going much below four weeks."
He said claims counts this year are running ahead of 2021 but still aren't what they were in 2019, in part because downtown traffic and morning commute congestion in major urban markets is still down compared to 2019.
"I don't anticipate repair volume to come back to pre-pandemic levels maybe ever," Mazurek said. "A lot of that has to do with vehicles getting smarter, and with ADAS being standard on every new vehicle. Especially in terms of front-end collisions, they're going to become less frequent and more costly."
That said, strong used vehicle values have kept the percentage of those claims resulting in a total loss vehicle declining the past two years. In the fourth quarter of 2020, total losses accounted for 21.7% of the total claims count, according to CCC data; by the third quarter of this year, that was down to 17%.