Collision Repair Instructors Share Insight About 3M Training
Written by Stacey Phillips, Autobody News
Published Sept. 7, 2023
In Bloomingdale, OH, Russell Achhammer teaches auto collision technology to 16 junior and senior students at Jefferson County Vocational School; 11 are male and five are female.
"The 3M training was important and provided me with the knowledge to learn the latest technology in repairing a variety of substrates and modern repair techniques and procedures," said Achhammer, who has been teaching at the vocational school for six years. "The training and hands-on exercises gave me a lot of great ideas to help teach students."
Achhammer plans to break down the lessons into smaller ones to educate his students on modern repair techniques.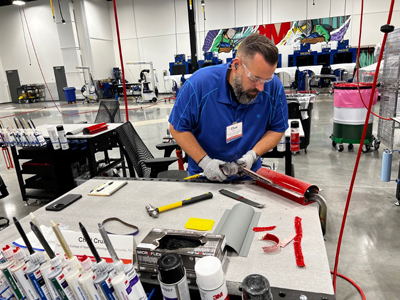 Collision Repair Technology Instructor Chad Crum is in his second year of teaching at Tennessee College of Applied Technology (TCAT) in Knoxville, TN. Previously, he taught secondary education for 11 years.
"Training is a necessity in our industry," said Crum. "Technology, vehicle manufacturing and repair methods are constantly evolving. If repair technicians are not willing to evolve with the collision repair industry, they become obsolete and fall to the wayside."
He said technicians should know better than anyone the importance of properly repairing damaged vehicles because lives are at stake.
"I attended the 3M training because I believe students need to learn these important procedures as soon as possible before bad habits are developed," noted Crum. "These procedures need to begin in our secondary and post-secondary learning institutions. I am thankful that TCAT Knoxville sees the importance of education and encourages their instructors to attend trainings such as the one offered by 3M."
Crum said TCAT President Kelli Chaney is fantastic about allowing him to attend industry training.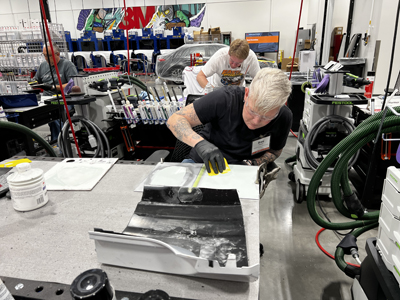 "At Tennessee College of Applied Technology Knoxville, we prioritize providing our instructors with relevant professional development opportunities," said Chaney. "Through innovative training by 3M, we ensure that our college remains at the forefront of the latest technology advancements available to the industry."
Bree Downs is in her 20th year of teaching automotive collision and refinishing technology at Seward County Community College in Liberal, KS. Currently, she has 20 students, 10 of whom are new to the program. Despite its remote rural location, the industrial technology division prides itself on seeking out the newest technology and methods for students.

"With the way the collision repair industry is changing, training is very important to me so I can keep up to date with new materials and processes and offer the most knowledge I can to my students," said Downs. "With the knowledge I gained at the 3M training, I will be able to teach my students the most current repair methods. When they enter the workforce, they will be able to complete the repairs in the most efficient and effective way possible."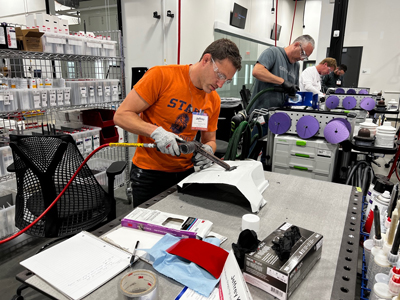 Jeffrey Kastel's education from 3M was his first opportunity to learn from master-level technicians. Kastel has a bachelor's degree in biology from Elmhurst University and a master's degree in educational technology from Concordia University Chicago. About three years ago, he was certified in Career and Technical Education (CTE), which allowed him to teach auto body repair.
Currently in his third year of instructing at Amos Alonzo Stag High School in Palos Hills, IL, Kastel said 120 students will take his semester course this year.
He said the 3M instructor training provided him with ideas to better implement instructional practices in the classroom to enhance student understanding of concepts and repair techniques.
"I was able to gain new understanding on proper procedures that meet the new industry standards to achieve automotive manufacture quality repairs," said Kastel. "The experience I had during the four-day 3M instructor training was a huge help to enhance my own instructional practice that will ultimately help students on a career-ready path in the collision repair industry."
Anthony-James Hernandez and Mercedes Rodriguez both teach at Lockhart High School in Lockhart, TX. About 100 students are currently enrolled in the school's four-year collision repair program.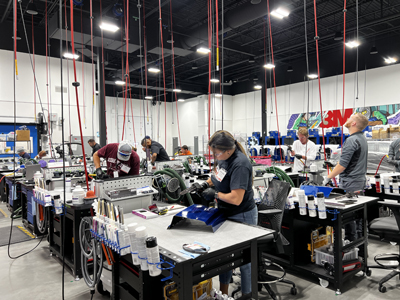 Hernandez, the lead collision repair instructor, has taught at Lockhart nine years. He said it's important to learn about new technologies and/or different ways of getting a job done and meeting the standard operating procedures (SOPs).
"Since we are no longer in the shop, we do not get to see or learn new vehicle technology," said Hernandez. "3M training is by far the best training I have been to as an instructor and helps me with new and different ways to reach my students."
In her third year of teaching basic auto and collision at Lockhart, Rodriguez said industry training is vital for the knowledge and growth of students.
"It encompasses more than just a trade," she noted. "Industry training helps students gain practical skills and real-world experiences. It also provides the opportunity to self-correct any misstep in that moment."
For Rodriguez, the 3M course will help her teach students up to date skills, as well as how to use new tools that aid in facilitating and speeding up the repair process.
"We work in an industry where we constantly have to retrain and adjust to what is new," she said. "It is important to stay updated and adapt to the ever-changing demands of our industry."
Rodriguez brought back samples of what she learned during the 3M experience to show students how important it is to learn from mistakes. "Hands-on experience is not only important but vital to student success," she said.