Page 1 of 2
CCC's Repair Cost Predictor 'Gets the Ball Rolling' on Estimates While Freeing Up Staff's Valuable Time
Written by Autobody News Staff
Published Sept. 21, 2023
AC Automotive Inc. was founded in West Hartford, CT, in 1985 by Aldo Carducci Sr. as a small Mobil gas station and three-bay mechanical repair shop.
As Aldo Sr.'s two sons, Guy and Aldo Jr., grew up and became more involved in the business, they added a 24-hour towing service, which brought in a lot of collision-damaged vehicles. The family started to perform some of that body work themselves.
AC Automotive Inc.
West Hartford & New Britain, CT
860-236-5020
ac-auto.com
Facebook: @AC Automotive
Instagram: @ac_automotive
Company At A Glance...
Type: Collision Repair
Facility Employees: 23
In Business Since: 1985
Number of Locations: Two
Combined Production Space: 14,000 square feet
Eventually, the shop needed to replace its gas tanks per state regulations, at which point the family decided to get out of the gas business altogether and focus on mechanical and body repair.
"That's when we put a big addition on our building," Aldo Jr. said. "We added another 6,000 square feet to offer more body repairs. As time continued, we had so much success, we decided to get out of towing completely and focus our attention on collision."
Today, Guy and Aldo Jr. own AC Automotive, and no longer offer towing or mechanical repairs unless it's tied to the collision repair. In 2021, they opened a second location in New Britain.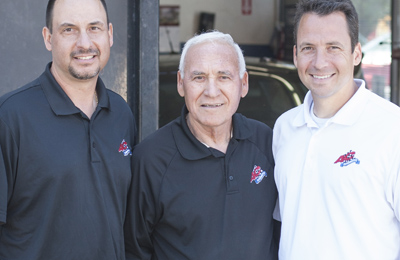 The I-CAR Gold and ASE-certified shops hold certifications from Nissan, Infiniti, Hyundai, Kia, Alfa Romeo, Subaru, FCA and Mazda, offering full body repair and refinishing, paintless dent removal, headlamp renewal and windshield replacement. Between both locations, AC Automotive repairs about 200 vehicles per month.
Aldo Jr. said the business has used CCC Intelligent Solutions' estimating platform, CCC ONE, "since the beginning of time," and has since added more of CCC's tools.
"We just kept adding each product that they offer as we went along," Aldo Jr. said. "Their product is very intuitive, easy to work with and self-explanatory. They have a lot of nice features between scheduling and photo estimating. Really, it's the whole package, so it makes running an auto body shop pretty easy."
This summer, AC Automotive participated in a test of CCC's newest offering: Repair Cost Predictor, part of the CCC Engage digital marketing tool, designed to accelerate lead generation. The feature was made available to all shops with CCC Engage, at no extra charge, in mid-August.