Page 1 of 2
CARSTAR DANRICH Chooses Car-O-Liner® for OEM Approvals, Sales and Support Team
Written by Autobody News Staff
Published Sept. 21, 2023
Brothers and co-owners Dan and Rich Schwartz combined their first names to form DANRICH Collision in 1980 in Homer Glen, IL. Since then, the body shop has changed to CARSTAR DANRICH, acquired a second location, earned a Tesla certification and had more family members join the team. Dan's son Clarke is the general manager, while his nephew Danny is a painter.
"My brother and I are the third generation in the auto repair business," said Dan. "My father was a technician, my grandfather was a technician and with my son and nephew working here, that makes four generations.
"Compared to the big MSOs, we're still a small family operation and we treat our customers like family," he said. "My brother and I still work on the floor, will repair cars when our team needs an extra hand, and my brother handles the parts department right now, too."
CARSTAR DANRICH
Homer Glen, IL
708-301-1250
www.carstar.com/locations/il/ homer-glen-15340
Company At A Glance...
Type: Collision Repair
Facility Employees: 11
In Business Since: 1980
Number of Locations: Two
Combined Production Space: 18,000 square feet
During the pandemic, Dan and Rich bought a second location in Des Plaines, IL, that they're currently remodeling.
"It now serves as Tesla parts storage," said Dan.
CARSTAR DANRICH holds a Tesla manufacturer certification and is in the process of becoming BMW and Volkswagen certified.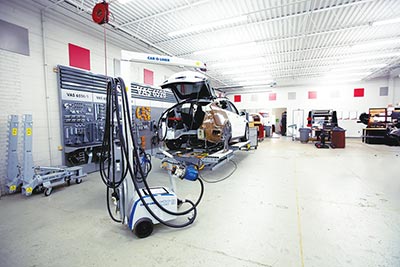 Switching to Car-O-Liner® equipment over a year ago has helped CARSTAR DANRICH in earning OE certifications.
"Car-O-Liner® is approved by many of the OEMs we want to be certified by," Dan explained.
"I remember when they wanted the Tesla certification, and now whenever I go in there, they are loaded with Tesla repairs," recalled Chris Cooling, who works for Wakeman Equipment, a proud distributor of Car-O-Liner® that enjoys helping body shops such as CARSTAR DANRICH grow their business and earn OEM approvals. "There's always one sitting on the Car-O-Liner® bench. So, I think the equipment has driven new business."
Dan added that Car-O-Liner's® sales and support team was also a significant factor in choosing the vendor.
"The company stands behind their equipment," Dan said. "If you have an issue with anything, they come in and are there for you."