Car-O-Liner® Helps V & F Auto Body Repair Vehicles Properly, Save Time
Written by Autobody News Staff
Published Oct. 18, 2022
In 1974, Frank Ferraro opened V & F Auto Body in Metuchen, NJ, with his best friend, Frankie Valentino. Eventually, the two parted ways, and Ferraro became the sole owner.
Ferraro opened a second location in Keyport 15 years ago, which he manages, leaving his sister to run the original location in Metuchen. Ferraro's daughter, Nicole, and son, Frank, operate the entire family business.
V & F Auto Body
Location: Keyport and Metuchen, NJ
(732) 739-6202
www.vfautobodynj.com
Facebook: @VFAutoBody
Instagram: @vfautoofkeyport
Company At A Glance...
Type: Collision Repair
Facility Employees: 30
In Business Since: 1974
Number of Locations: Two
Combined Production Space: 19,000 square feet
"My father had us work summers at the shop when we turned 13," Frank explained. "My sister is older than me, so I was elected to wash cars and prep bumpers while she worked in the office."
Frank said V & F's customer service approach is what sets it apart from other shops.
"We make people feel like they are part of the family and taken care of, which eases their mind," he said. "We also try to empathize with their situation."
Frank added that V & F Auto Body aims to provide service customers can't get anywhere else.
"We apply that mindset to every repair too," he said. "So, people leave feeling comfortable, knowing we fixed their car properly."
To help ensure proper repairs, V & F has invested in multiple OEM certifications.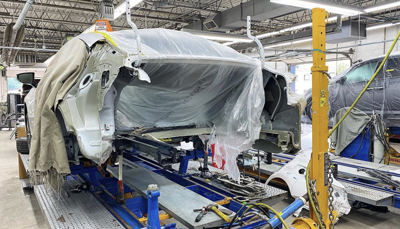 "Keyport's collision repair partners include Subaru, Ford, Honda, Acura and Assured Performance," Frank said. "Metuchen is certified by Ford and Assured Performance."
V & F Auto Body switched to a Car-O-Liner® measuring system, frame machine and spot welder to meet manufacturer standards.
"With the advancement of this industry, you must adapt to the manufacturer repair procedures," explained Frank. "Since we first introduced Car-O-Liner®, it hasn't let us down. It repairs the vehicles properly."
About 10 years ago, Frank came across the Metropolitan Car-O-Liner® booth at the New Jersey Trade Show.
"Their Vision measuring system caught our eye," he recalled.