Best Body Shops' Tips: How to Profit from ADAS Services and Calibration---It's Not Just About the Targets
Written by Stacey Phillips, Autobody News
Published Sept. 1, 2022
Industry statistics show nearly 50% of the North American car parc will be Advanced Driver Assistance Systems (ADAS)-equipped by 2025. By 2030, the percentage of ADAS-equipped vehicles will be more than 75%.
With the overwhelming growth in this area, Frank Terlep, co-founder of Auto Techcelerators, said collision repair facilities are currently faced with many challenges conducting ADAS services and calibrations.
The first is location. Based on industry data, Terlep said 80% of collision repair facilities do not have the required space to perform these services. They also need a business operating system, trained personnel and equipment, which includes targeting systems, diagnostic tools, alignment systems, vehicle lifts and more.
One of the biggest challenges is identifying a vehicle's ADAS technologies and required calibrations, which Terlep noted most shops do poorly.
He shared a February finding from Honda that identified 80% of appraisals processed through CCC Intelligent Solutions that needed a calibration did not include a line item related to calibration.
During a recent webinar sponsored by Auto Techcelerators, Terlep shared some of what he believes are the requirements to run a properly outfitted ADAS services and calibration business.
Established in 2019, Auto Techcelerators assists the automotive, collision, glass, insurance and truck industries to properly estimate, calibrate and validate ADAS systems, repairs and calibrations. The company's Test Drive CoPilot™ platform was chosen as one of 15 semifinalist solutions in the 10th annual Specialty Equipment Market Association (SEMA) Annual Launch Pad Competition.
The Facility
For businesses planning to perform 10 or more calibrations or ADAS repairs per day, Terlep advised facilities allocate at least 4,000 square feet.
"If you are going to do calibrations properly, you can't do them in a parking lot, under a tree or in space where there isn't enough room for targets to be the proper distance," he explained.
Terlep recommended setting up three work bays and outfitting the facility to ensure all calibration procedures are performed indoors without obstructions or uneven surface shadows.
Each calibration bay needs a floor space of at least 33 feet wide by 17 feet in length to perform the calibrations, and the floor should be level within four 10ths of an inch from one side of the workspace to the other.
"A slight incline along the floor of the space could result in the miscalibration of a camera or radar sensors, thus skewing the vehicles' reactions," Terlep explained.
The floor should be painted in a neutral tone, be pristinely clean and be able to be written on.
He also stressed the importance of having evenly-diffused lighting with minimal shadows. LED bulbs should be 300-400 lumens that can be adjusted based on the seasons, weather and time.
"These are moving variables depending on the shop's location and time of year," said Terlep.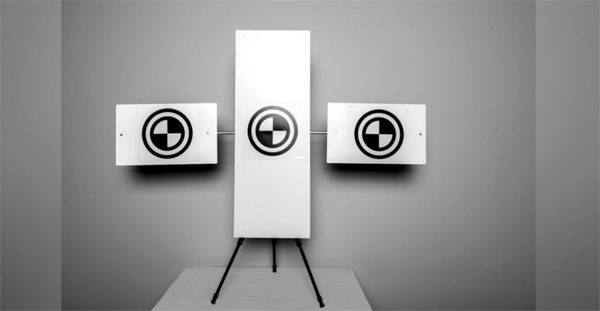 Ideally, the facility's walls should be a matte color. He recommended a solid color coating in beige, grey, light grey or white with no patterns.
"Targets are patterns and you don't want to confuse the sensors you are calibrating with patterns behind the targets," explained Terlep. "Ensure there are no reflections or shadows and there are no reflective surfaces that might interfere with the calibration equipment."
For owners/operators considering opening a mobile business, Terlep said to consider the skills personnel will offer, the cost of insurance and equipment, space availability, lighting, who will be checking the alignments and how documentation will be collected.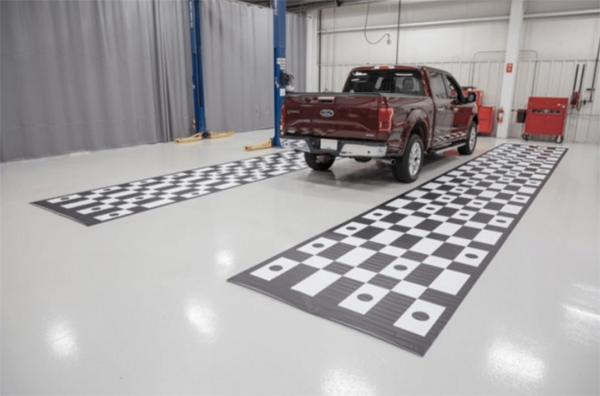 Tools
One of the essential tools for a calibration center to acquire, according to Terlep, is an OEM and/or aftermarket diagnostic tool and/or software.
"You probably need both," said Terlep. "You need multiple aftermarket tools because they all have limitations."
They also need to be kept up to date.
"You aren't going to do a 2022 calibration with 2021 software," he noted.
One of the costliest pieces of equipment required is the targeting system, which is typically rectangular with black and white patterns.
"It's critical to have the right size targets," said Terlep. "Be prepared to purchase additional targets when new ADAS systems or components are introduced."
ADAS repairs and calibrations also require additional tools such as reflective metal sheets, metal cones, window calibration tools, floor mat calibration targets, doppler simulators, HUD systems and more.
Terlep highly recommended having OEM tools on hand for the vehicles the facility typically repairs or subscribing to a remote diagnostic service. He said there are currently five of these types of businesses available today.
Not only do remote diagnostic companies perform pre- and post-scanning, but many also offer remote calibration services. In some cases, Terlep said they provide free targets or a low dollar amount and split the revenue with the facility.
He recommended owners/operators compare the remote cost vs. the cost of purchasing OEM software.
Another consideration he noted is related to alignments. With 11 auto manufacturers requiring a calibration following a wheel alignment, Terlep said in most cases, a vehicle needs an alignment check before a calibration.
"Alignments and calibrations are like peanut butter and jelly sandwiches," he said. "If the vehicle isn't aligned correctly, there's a good chance the ADAS systems aren't going to work."
As a result, he said facilities must be in the alignment business or have an alignment company nearby.
Workflows and Processes
Terlep shared what he referred to as the "seven moments of truth" when repairing/calibrating ADAS-equipped vehicles. They include identifying and locating the technologies and needed calibrations; communicating with the customer; preparing an accurate repair plan; ordering and scheduling the services; documenting all pre-calibration requirements; documenting calibration actions and results; and performing, managing and documenting the test drive.
Organizing Pricing and Getting Paid
Although some shops organize pricing by service category, Terlep and his team have found organizing by manufacturer is preferable.
He also recommended shops take steps to ensure they have an accurate and detailed billing system.
ADAS/Calibration Software
For shops planning to enter this side of the business, Terlep said it is critical to have a software platform. However, he believes there isn't one on the market to meet all of the current needs.
"I've talked to a lot of businesses and most are using five to seven different systems to manage and operate their companies," he said.
He said the ideal software would help identify and locate ADAS technologies, calibration triggers and required calibrations, educate customers about what needs to be done with their vehicles, and assist shops to create better, faster and more accurate repair plans. The software would also help the business manage all workflows and processes, generate, share and store detailed documentation, and operate an efficient and profitable business.
Because most collision repair facilities don't have the required space to prefer a calibration, Terlep foresees the industry will operate in a "hub and spoke" model in terms of calibrations, where several stores in a certain area will use a central location for these services. As a result, ADAS/calibration software should ideally include this business model.
He noted five of the largest organizations in North America currently manage calibrations in this way.
Documentation and Liability
Terlep recommended facilities document every aspect of the ADAS service/calibration process as if the shop were going to court tomorrow.
This includes the vehicle components, calibration triggers and required calibration types, pre- and post-scans, repair order/lines, a health scan and images of a vehicle. It should also include a calibration results report, post-calibration safety system verification test results, a detailed invoice and a workflow report.
"How can any organization look at a customer and give them the keys to the vehicle without providing them with validation and documentation that they accurately tested and validated the systems work properly?" said Terlep.
He advised shops to remember that ADAS systems directly affect acceleration, braking and steering.
"If one is off and doesn't work, the outcome is not good," he pointed out. "If an ADAS system fails, who is to blame? The driver, the OEM, the shop or the insurer?" Without documentation, Terlep said, you don't know.
The Investment
When determining the investment to begin offering ADAS services/calibration, Terlep said to consider the cost of the facility, targeting systems, targets, the alignment system, diagnostic tools and business software.
While he estimates a minimum investment might be around $150,000, it could easily reach $250,000-$300,000.
Return on Investment (ROI)
To be successful in the ADAS repair and calibration business, Terlep advised facilities to focus on process and volume.
"The key to success is to capture three to 10 customers who repair 100 vehicles a month where you can expect to receive 25-40% of those vehicles," he said.
For shops doing 4,800 calibrations annually, he estimated $773,577 annual gross profit.
For more information, visit www.autotechcelerators.com.
To watch the webinar, visit https://www.youtube.com/watch?v=dbf5Css50Hk