Auto Body Shops Struggle to Control Access to, Use of Estimate Data
Written by John Yoswick, Autobody News
Published Jan. 5, 2023
Denise Koukal, chief information officer for the LaMettry's Collision chain in Minnesota, said her company, like others, has had a customer upset his vehicle repair generated an entry on a vehicle history report.
"We got a phone call as he was preparing to sell his vehicle at an auction and noticed that this had been reported to a third-party vehicle history report," Koukal said during a data access and privacy discussion at the Collision Industry Conference (CIC) in November. "I'm sure many of you have had the conversation about 'Why did you report my repair? Now it's going to financially impact me with the sale of my vehicle.' We didn't report it, but we don't know who did either. So it's a very difficult conversation to have with a customer."
Koukal shared a flowchart tracing everywhere data related to that repair---a customer-pay job---went from the shop, including to three different parts procurements systems that each searched for parts from multiple vendors; third-party scheduling and customer service indexing services; OEM repair procedure sources; an aftermarket scan tool system; a materials invoicing system; and an aftermarket clips and fasteners tracking system.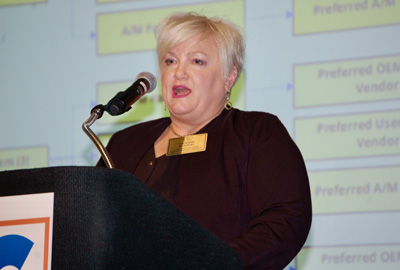 Koukal said other common places the data is sent---though not for this particular repair---include a rental management system, sublet sources and an online estimating program.
There was no way of knowing, Koukal said, how in all that data flow the repair made it to the vehicle history report. She said both her company and the customer asked to have it removed from the report for the vehicle.
"To my knowledge, the accident was never removed from the vehicle history report," she said. "This customer was a repeat customer for us. We had done five repairs for him. We have done none since."
Start of Estimate Enough to Send Out Data
Another panelist, New Mexico shop owner Scott Benavidez, said he has been working since 2016 to track down how some estimate data from his shop has made it to vehicle history reports He shared a flowchart similar to Koukal's, but the estimate it tracks was not a customer-pay job but one involving an insurance company.
"As repairers know, we get information every day that says, 'Add this vendor, add this vendor,' so that they can continually look for the least expensive part," Benavidez said. "That absolutely opens it up to people that I didn't even invite….as a vendor, but now are in my platform because of the insurer relationship."
Koukal agreed, noting insurer and automaker programs can similarly require the use of different customer satisfaction indexing services, "exposing that data to many more places."
Benavidez said once last year, he had entered about the first 20 lines of an estimate before he got called away to do other things.
"I came back to that estimate about an hour or two later," he said. "As I went through my emails, I had received one from Wheels America that said, 'Hey, we have your wheel' for that particular vehicle. I hadn't locked the estimate. I had never done anything with that estimate other than start it. Wheels America is someone I've never done business with. They were put in there by the insurance company. And I had no idea it was going to them."
The panelists all agreed it's difficult to know how often a shop's data related to a repair somehow makes its way onto a vehicle history report.
"It's really hard to say how frequently it happens because we don't usually hear about it until a customer goes to sell or trade in their vehicle," Koukal said. "There's probably been about 10 times that we've been called about it, so we know it's happened. But there's probably a lot we don't know about."