Page 1 of 2
AirPro Diagnostics Enables Moppert Brothers to Stay on the Leading Edge of Equipment & Technology
Written by Autobody News Staff
Published Sept. 21, 2023
Since opening its doors 47 years ago, Moppert Brothers Collision Services Group has focused on providing quality repairs by friendly staff and delivering vehicles on time to customers so there are no surprises. The third-generation family business has locations serving southeastern Pennsylvania and southern New Jersey.
Harry Moppert Sr. and his sons, Harry Jr. and Douglas, have managed the company together since 2012.
Moppert Brothers Collision Services Group
Morton, PA
610-544-4444
www.moppertbros.com
Facebook: @MoppertBrothers
Company At A Glance...
Type: Collision Repair
Facility Employees: 47
In Business Since: 1976
Number of Locations: Three
Combined Production Space: 42,000 square feet
As an I-CAR Gold Class Shop, the Moppert Brothers team understands the importance of training technicians and having in-house experts complete safe and proper repairs.
Over the years, the company has obtained OEM certifications for several brands, including Mercedes-Benz Elite Certified, BMW, Tesla, FCA, Ford, GM, Honda-Acura, Hyundai, Kia, Nissan and Subaru.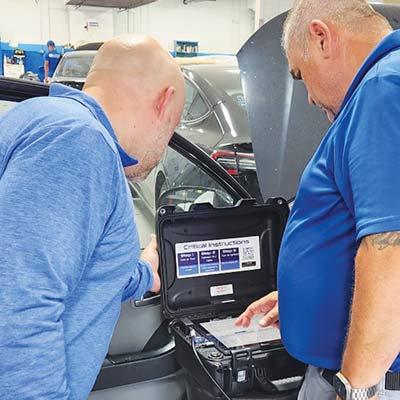 "OEM certifications enable us to obtain the right information to repair the cars properly," said Harry Sr. "The industry and consumers recognize that a shop that has certifications is going to do the job right and the motoring public are the ones that benefit from that."
He said the business has always been on the leading edge of the latest equipment and technology in the collision industry.
An important part of that is the company's reliance on AirPro Diagnostics' services. Harry Sr. has known Michael Quinn, chief global development officer at AirPro Diagnostics, for many years, and was impressed with the company's scanning, diagnostics and ADAS calibration solutions. As a result, the company has been using their services for a long time.
Moppert Brothers' technicians can connect an AirPro device to a vehicle with OEM-licensed software and multi-brand diagnostic applications that are resident. Then, a remote brand specialist technician performs a full scan and thorough diagnostics. The findings are recorded and stored on ORION, a cloud-based diagnostic management platform, and a complete report is available on the user portal and through email.
"It's a convenient and simple process," said Harry Sr. "We have been able to cut out a lot of wasted time scheduling an appointment with third-party vendors to come in or setting up an appointment with an outside vendor that tells us it will be ready tomorrow and they don't look at it for three days."