6 Ways to Take Action During Right to Repair Awareness Month
Published July 5, 2023
July is Right to Repair Awareness month and the Auto Care Association is calling on the auto care industry to take action this summer by making their voices heard in Washington.
Following the recent attempt by the National Highway Traffic Safety Administration (NHTSA) to prevent automakers from complying with Massachusetts Data Access Law, the association is urging industry-wide participation in spreading awareness about the importance of preserving Americans' right to repair their vehicles and passing the REPAIR Act at the federal level.
The Auto Care Association makes participating in Right to Repair Awareness month easy and accessible to everyone by offering six ways to take action this month.
"There are more than 4 million individuals that make up the American auto care industry and its time we start putting that number to work," said Bill Hanvey, president and CEO, Auto Care Association. "Rights, oftentimes, need to be fought for---which is why it is imperative that the latest actions taken to thwart the will of the people in Massachusetts be a wake up call to our industry that we are going to have to bring everything we've got into this fight for the future of our industry. We've made taking action easier than ever and I hope everyone will lend their voice in this Right to Repair fight."
Anyone in the industry can join the Right to Repair Awareness Month effort by taking action in the following ways: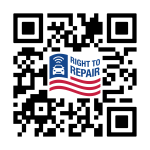 Scan this QR Code to send an automatic letter to your local congressperson telling them to support the REPAIR Act.
Download Right to Repair promotional materials at autocare.org/r2rtoolkit to conduct a company awareness campaign on Right to Repair. The Auto Care Association's toolkit has everything you need to educate employees and customers about Right to Repair.
Host your congressperson at your place of business. The association has a complete program that handles the contacts, the logistics and the talking points. Here's a link to our Advocacy 101 toolkit to learn how to get started.
Share your support for Right to Repair throughout the month of July and what it means to you on social using the hashtag #righttorepair. The Auto Care Association has created a media kit with downloadable and editable graphics for eye-catching communications.
Be an ambassador within your organization. Spread the word about Right to Repair Awareness Month with your supervisor. Ask your HR department to send this company-wide and use resources from the association's media kit to educate your company and encourage your employees or colleagues to also take 30 seconds to send a pre-populated letter to their local legislator via the association's Action Center.
Continue your engagement on this critical issue by participating in the 2023 Auto Care Association Legislative summit, taking place Sept. 21 in Washington, D.C. Join the association and hundreds of aftermarket industry professionals in Washington for a day packed with meetings between you and your local congressional representatives so they can hear directly from you about our industry's need to access vehicle data.
The loudest voice in Washington is that of the taxpayer/voter---and we provide the talking points, the meeting schedule and a thoroughly American day participating in the political process. This is a day you will bring home to your family and friends, and you will not regret it.
Additional resources, including full briefs on Right to Repair can be found on the Auto Care Association website for both the state and national levels.
Companies that partake in employee education efforts will receive recognition from the Auto Care Association. Participating companies can send details about their engagement in the Right to Repair Awareness Month to communications@autocare.org.
Learn more about the upcoming Auto Care Association Legislative Summit at autocare.org/legislativesummit.
Source: Auto Care Association