Page 1 of 2
Paddock's Does Million-Dollar Jobs, Every Car Painted with SATA Guns
Written by Autobody News Staff
Published Oct. 13, 2022
Many painters get attached to their tools, equipment and processes, especially if it can help them do an exemplary job.
In this case, Rob Paddock, owner of Paddock's Paint Works in Chesterfield, MI, is a devotee of SATA, and that's why his logo contains a depiction of a SATA spray gun. Without really knowing it, Paddock has become a brand ambassador for SATA and isn't afraid to tell the automotive world about it.
Paddock works on classic, primarily pre-WWII vehicles, many of which are million-dollar jobs headed to Pebble Beach, CA, for the annual Concours D' Elegance. If you're a car connoisseur, you know it's the Super Bowl for car enthusiasts, where the finest---and most expensive---vehicles in the world are displayed and compete for coveted awards.
Paddock's Paint Works
Location: Chesterfield, MI
(248) 941-1207
www.paddockspaintworks.com
Instagram: @paddockspaintworks1
Company At A Glance...
Type: Automotive Restoration
Facility Employees: Five
In Business Since: 2012
Number of Locations: One
Production Space: 4,000 square feet
Paddock fell in love with classic and exotic cars at an early age.
"While I was a kid, we used to go to an automotive show here in Michigan in the Upper Peninsula called the St. Ignace Car Show," he said. "My uncle was a member of the Corvette Club of Michigan, and he had 10 1957 Corvettes. So, my mom would drive one, my dad would drive another, and my whole family would come along. I think I was around 8 years old when an Impala was there, painted black with flames. I thought it was the coolest thing I'd ever seen. And from that moment on, I decided I wanted to paint cars."
Let's fast forward to 2012, a significant year for Paddock and his career.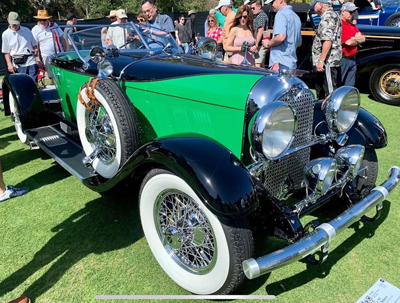 "I've always loved what I did, and I worked for some great shops, but I was kind of unhappy with my current situation," he said. "So, talking to my wife, she said why don't you go out and do this on your own? I was reluctant because starting any business can be risky. But my wife insisted and kind of pushed me out the door. Otherwise, I don't know that I ever would have had the courage to do it. My cousin gave me a break and got me into a building and that's how I started."
Luck and family connections led him to the creation of Paddock's Paint Works.
"I painted an offshore racing boat for my cousin, he owned the building that I painted it in. So, we talked, and he said, hey---I'll give you a break on the building. So, we set up a paint booth and went from there. I owe my cousin for helping me because it really helped to get me started."