Page 1 of 3
Owners of Ka'anapali Collision in Maui Suffer Tragedy from Devasting Wildfires
Amanda Funkhouser and Jess Unruh lost their home and business, but are determined to rebuild with the support of the collision repair industry.
Written by Stacey Phillips, Autobody News
Published Oct. 4, 2023
On Aug. 8, devasting wildfires burned parts of the island of Maui in Hawaii. The hardest hit area was the resort town of Lahaina. Nearly 3,000 structures were reportedly damaged or destroyed and about 115 people were killed. Many residents lost their homes and businesses, including Amanda Funkhouser and her husband, Jess Unruh, owners of Ka'anapali Collision.
Before opening the body shop in 2012, Unruh previously worked in Maui for three years. He moved back to his hometown of Portland, OR, where he met Amanda, who has a bachelor's degree in criminal justice and worked with at-risk youth. They moved to Maui in 2011 and established Ka'anapali Collision in Lahaina a year later, running the business together. Their 10-year-old daughter, Coraline, grew up in the body shop, taking naps in her swing and cruising around the parking lot in her walker after hours.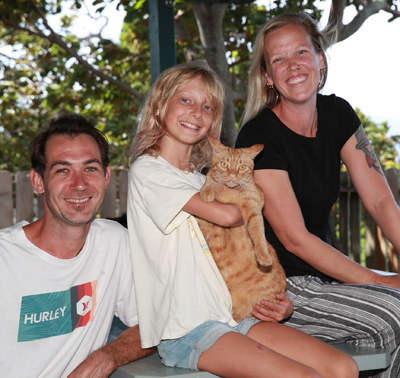 Since opening the facility, they have built a reputation for providing personalized service to customers.
"We really care about our customers. I go above and beyond to help them work with their insurance companies, making sure they are paid what they deserve, and they receive a quality repair with a smile," said Funkhouser. "When customers pick up their cars, I always joke and say, 'I'll see you at the grocery store, but I don't want to see you here again. Be safe.'"
With Lahaina being a very small, tight-knit community, Funkhouser said everybody knows everybody. As a result, they typically haven't spent money on advertising but rely on word of mouth to build their business, referred to as "coconut wireless" in Hawaii.
"I think that's the reason it did so well," said Funkhouser. "When we donated to an event at Coraline's school, they put up banners recognizing the sponsors. I would tell them not to put up one for our shop and to focus on struggling businesses."
Funkhouser recently shared her family's story with Autobody News.
An Unexpected Emergency
Our house was in the south end of Lahaina along the highway outside the Shark Pit neighborhood. Jess and I woke up at about 3 a.m. because the wind was blowing so hard. We stay updated with the news and world events, but we had no idea this was coming. I don't think anyone realized how bad it was going to be.
We closed the windows and secured everything. We tried to go back to bed but the wind was getting worse and we didn't sleep much. About 5 a.m., we heard a big pop and crack and then the power went out. We've had windstorms before and the power gets knocked out, but it hasn't been a big deal.
It started getting light about 5:30 a.m. and I saw a police officer outside. I walked up the highway and three power poles had snapped and were laying across the highway.
We went to our shop 2 miles away to make sure everything was secure and the cars weren't getting damaged. We also called our employees to let them know about the power being down and to stay home for the day.
We were going to work a bit but it was so windy that when I would try to pull something out of a box, it whipped out of my hand. Around 10 a.m., we called it quits and headed home. A mama hen and her baby chicks were taking shelter under my car so I drove our little blue Tacoma truck.
Along the way, I picked up my 28-year-old niece, Hana, who lives with us. The roads were blocked off because more power lines started snapping as the wind progressed.
We heard there was a fire but allegedly, it was contained so we went home and called it a "snow day." We tried to work on a puzzle on the living room floor above our garage, but it was really hot. We kept the windows closed because it was so windy. Every time a big gust of wind came through, it shook the house and was vibrating like crazy.
I never experienced wind like that in my life. At about noon, we noticed shingles on our driveway. We went outside and they were blowing off the roof. I told everybody to stay away from the windows and look on the bright side. We could get a new roof.
Two hours later, a giant branch snapped from the tree in our front yard, blocking the two cars in our driveway. Jess and his friend from Oregon, Greg, spent the next two hours cutting up the branch. When a big gust came through, they'd take shelter in our Jeep until the wind died down a bit and they'd cut more.
When they finished, we saw a giant gray cloud of smoke. Within an hour, the entire sky was gray and we could see the fire coming down the hill.
It was surreal to me because we could hear popping noises. I remember Jess asking what the noise was. It sounded like heavy equipment or moving boulders but it was propane tanks exploding in people's houses.
Some friends came over around 4:30 p.m. and there were 10 of us standing on our lanai [patio] watching the fire come. We packed an overnight bag and told our daughter to bring whatever she wanted as long as she could carry it. Coraline spent an hour deciding what was important to her and packing her backpack. She did a good job.