From Our Columnists
Autobody News Exclusive Content
Mike Anderson

Mike Anderson is the president and owner of Collision Advice, a consulting company for the auto body/collision repair industry.
There's a difference between customer service and customer experience, and focusing on the latter can pay off.
Abby Andrews

Abby Andrews is the editor of Autobody News.
The refurbished vehicles were donated to local Las Vegas residents in need of reliable transportation.
Ed Attanasio

Ed Attanasio is an automotive journalist based in San Francisco.
The U.S. Army captain who bought the Porsche while serving in Germany in 1970 might be the longest original owner of the rare car.
Stacey Phillips

Stacey Phillips is an award-winning writer for the automotive industry based in Southern California. She has 25 years of experience and co-authored two books.
The showcase, part of the 2023 SEMA Show, brings together speakers to share their ideas on a variety of topics in a series of short presentations.
Cole Strandberg

Cole Strandberg is a principal with FOCUS Investment Banking, specializing in automotive aftermarket mergers and acquisitions.
The past six months have marked a compelling journey for Autobody News' weekly podcast dedicated to the business side of the collision repair industry.
John Yoswick

John Yoswick is a freelance writer who has been covering the collision industry since 1988, and the editor of the CRASH Network.
Data from CCC Intelligent Solutions shows DRP claims were up 3% in Q3, while the average age of vehicles continues to rise.
Stay connected to the number one source of collision repair news!
Subscribe now to your region's monthly magazine, in print and/or digital, and to receive our weekly e-newsletters, delivered directly to your inbox.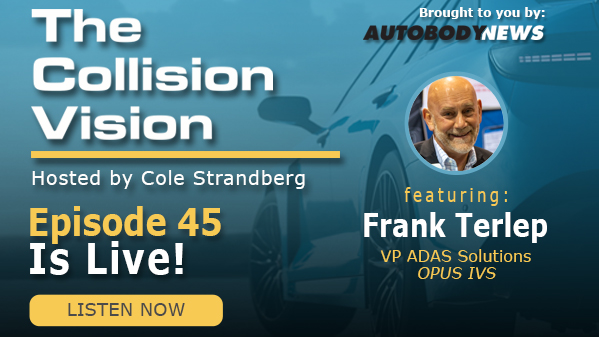 FEATURED VIDEO: Equalizer Products - The Cutting Edge of Auto Glass Removal & Replacement Technology

Equalizer® has invented, developed or brought to market the majority of new products that have been introduced into the auto glass industry since 1987.
Shop & Product Showcase (SPS)
Read testimonials from real collision repair shops about the tools and technologies they use to get the job done.