NABC Programs Enable Auto Body Shops to Help Their Communities
Written by Ed Attanasio, Autobody News
Published Apr. 05, 2022
Several years ago, actress Angelina Jolie said everyone should help the world "by doing what they can, where they are and when they can."
She also believes in saving one third, living on one third and giving away one third. If we all lived that way, the world will undoubtedly be a better place.
The National Auto Body Council Body® (NABC) has been saving and changing peoples' lives since its inception 28 years ago. Known as the collision repair industry's premier philanthropic organization with members that include auto body shops, rental car companies, parts and materials providers, insurance companies, automotive recyclers, towing companies and industry consultants, NABC serves communities across the country with programs that are nationally acclaimed.
The NABC has three key initiatives---NABC Recycled Rides®, NABC First Responder Emergency Extrication (F.R.E.E.™) and the NABC Drive Out Distraction program. That effort equates to a 4:1 ROI in dollar value delivered from NABC membership dollars. Members can take advantage of these programs through their NABC membership and receive a complete marketing tool kit to promote each program they implement.
President and CEO Bill Garroutte believes in NABC because he has seen the organization in action time and time again.
"Our goal is to be as available as possible and to make this as effortless as it can be on behalf of our constituents," he said. "Giving back to the communities where we all live and work involves a process and we've got it down to a science. We've worked hard to get better at it over the past 15 years. We have 145 vehicles in process right now around the country with our NABC Recycled Rides program, with a good number of different individual shops or MSOs that are participating in one or more of programs.
"All of our initiatives are based around the community and our constituents in the community, by providing them with a product," Garroutte said. "We sometimes refer internally to it as marketing in a box. Because if you adopted all three of our programs and incorporated them into your existing marketing plan, you've got a pretty robust marketing plan.
"Years ago, there was an issue with the image of the industry, when Joey Buttafuoco, a former body shop owner, was in the news and not in a good way. There was a group of folks who decided we can do better than this. We have to protect our own image, so that's how NABC was formed in September of 1994."
Director of Claims, Innovation and Customer Experience Clint Marlowe has seen NABC strengthen relationships between insurance companies, industry vendors and collision repair facilities.
"We are dedicated to providing strategic networking opportunities that positively change lives by connecting collision repair shops with their customers and their community and positively influence their image, a value far beyond the membership fees," he said. "We build partnerships with our philanthropic partners who serve communities across the country and setting them up for success."
Garroutte has seen NABC grow, including more and more collision repairers as active members over the years, he said.
"The MSOs make up about 60% of the giftings and independents make up roughly the rest of that on a national basis," Garroutte said. "The interesting part is that the MSOs have adopted our programs into their marketing in a big way. And it is just amazing when we work together when it comes to the giftings. It is really satisfying to see insurance companies and body shops working together to do some amazing things."
In addition, NABC has 11 trade/technical schools involved, donating more than 20 vehicles this year alone.
"They make it part of their curriculum, preparing these cars for our NABC Recycled Rides program," Garroutte said. "They learn the value of giving back, something they can take along when they enter the industry."
While the original vision and mission NABC was to build the image of the collision repair industry as positive, professional, trusted members of the business community, that has expanded to encompass the many organizations that provide financial support, business services and other support for today's dynamic collision repair industry. The organization is changing the paradigm of how the collision industry works and is viewed.
NABC Recycled Rides is celebrating 15 years of providing reliable transportation in 2022. The program works with insurance and rental car companies to provide vehicles to collision repair shops that donate reliable transportation to individuals and service organizations in need.
The statistics are impressive, with thousands of lives impacted.
Since 2007, through the NABC Recycled Rides program, NABC members have gifted nearly 3,000 vehicles to people in need and delivered nearly $42 million in vehicle value at giftings. This spring, NABC will gift its 3,000th vehicle, with 350 vehicles being given away this year.
In 2022, NABC Recycled Rides will present vehicles at a wide range of industry events, including the NORTHEAST Automotive Services Show in New Jersey, the inaugural CCG conference in St. Louis, the URG Conference in New Orleans and the NABC Round Up Pars for Cars Golf Fundraiser presented by Hertz in Oklahoma City. Beginning in May, USAA will present 100 Recycled Rides through the year to celebrate its 100th anniversary.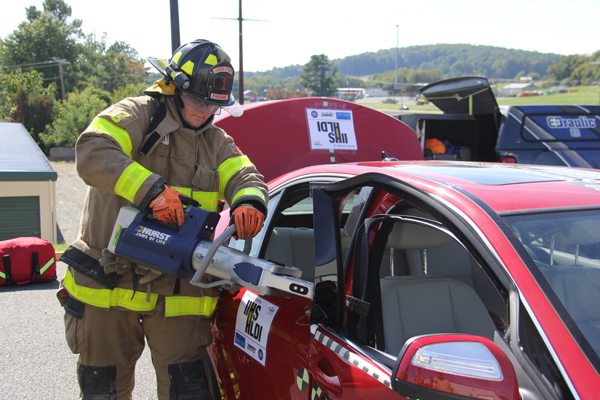 The NABC F.R.E.E. program provides advanced education and guidance to help first responders practice cutting techniques on late-model vehicles, addressing high-strength steel and composite materials, multiple airbags, onboard technology and changing vehicle design.
Through the program, NABC and its members have helped educate nearly 5,000 first responders on how to extricate from today's advanced vehicles and saving lives in these communities.
At its Oklahoma golf fundraiser, NABC will unveil the NABC F.R.E.E. Demonstration Vehicle Presented by Genesis Rescue Systems. The vehicle was donated by Allstate and repaired by Crash Champions and 417 Dent Pros. The vehicle wrap was provided by 3M, Safelite donated the glass, URG donated replacement parts, All Star Auto Lights provided the headlights and towing was provided by Smith Auto Transfer and HONK for Help.
Genesis Rescue Systems will transport the vehicle around Texas, Oklahoma, Kansas, Missouri, Illinois, Arkansas and Louisiana over the next three years as part of an education program for first responders.
The NABC Drive Out Distraction program is helping educate drivers and their passengers about reducing the dangers of distracted driving with a national campaign that focuses on eliminating this issue. To achieve this, NABC encourages drivers to prepare for the road trip by downloading directions, checking weather and traffic conditions, setting the radio station and familiarizing themselves with the vehicle's controls.
It also promotes reducing cell phone distractions by setting devices to "do not disturb" and eliminating in-car interruptions by securing pets, buckling in children and reminding passengers not to distract the driver with inappropriate behavior.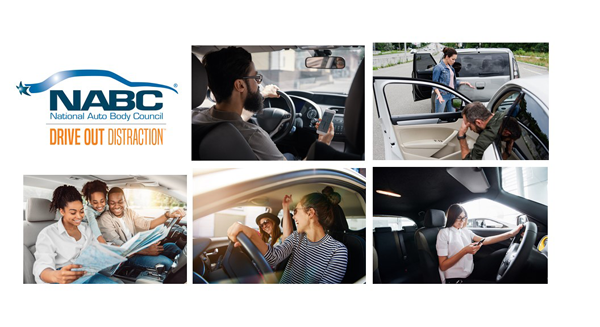 The NABC Drive Out Distraction program is available at no cost to all NABC members to use at their locations, rental car counters, retail locations or with their employees. The program materials include custom-branded counter card with tips for setting devices to "do not disturb" and call to action to take the NABC "Drive Out Distraction" challenge.
A custom-branded web page on www.NationalAutoBodyCouncil.org with tips for eliminating distracted driving to share via social media is also made available to all members.
The organization also recently announced the second annual recipients of the revamped NABC Awards program to formally recognize leadership of and commitment to improving the collision repair industry. Last year, it introduced two new awards in place of the previous ones---the NABC President's Award and the NABC Changing and Saving Lives Award.
The NABC President's Award is designed to honor the NABC member company that supports the vision of the organization through donation of its time and resources. That award will be presented in the coming weeks.
The Changing and Saving Lives Award recognizes the individual in the collision repair industry who has delivered exemplary service in the NABC mission of Changing and Saving Lives Every Day, far beyond their role in the industry.
The 2021 award recipient is Josh Byers, general manager of Automotive Color & Supply. He was selected by the NABC Awards Committee via a thorough review of nominations.
Byers is highly engaged in his community and is actively involved in changing the lives of young people through his support of the Boys & Girls Club of Fort Wayne, Big Brothers Big Sisters of Northeast Indiana, Junior Achievement of Northern Indiana and the World Baseball Academy. He also is a member of the Indiana Auto Body Association Board of Directors, president of the Refinish Distributors Alliance (RDA) and serves on the advisory board for Ivy Tech's collision program in Fort Wayne.
The NABC Awards committee will donate $250 to WIN (Women's Industry Network) in his name, which he has offered to match. The committee also will donate $250 to Byer's charity of choice, SkillsUSA.
Keeping the ball rolling at NABC is Garroutte and his board's top priority, he said.
"I would say that the momentum that we're gathering is as a result of the support we're getting from our constituents and giving us greater and broader exposure," Garroutte said. "We have established a culture in the last four to five years that has rejuvenated a lot of excitement and activity among our board of 21 volunteers. And then our executive board is made up of six very passionate and committed individuals. We're all playing for the name on the front of the jersey, not the name on the back."