Move to Industrial Finishes Makes Auto Body Shop Owner Smile Ear-to-Ear
Written by Autobody News Staff
Published Oct. 17, 2022
Everyone in this industry has to anticipate change or they won't survive. In this case, James Kim, owner of Kim's Auto Body in Santa Clara, CA, entered into an agreement with Industrial Finishes and Systems to spray AkzoNobel Sikkens waterborne paint and tap into the company's world-class customer support.
With his shop growing exponentially every year, Kim is doing everything he can to adapt and continue to provide a top-notch finished product. The pandemic wasn't easy for Kim and his crew, but now they're back on track. A Tesla certification they landed in 2021 has helped the bottom line.
Kim's Auto Body
Location: Santa Clara, CA
(408) 294-7633
www.kabsc.com
Facebook: @KABSantaClara
Instagram: @kimsautobody
Company At A Glance...
Type: Collision Repair
Facility Employees: Eight
In Business Since: 2016
Number of Locations: One
Production Space: 12,000 square feet
"Teslas are very popular here in Silicon Valley and we've been getting our fair share of them since we got the certification," Kim said. "They are now a big part of our workload. To please these Tesla customers, we have to do a great job on each one, and a big part of that is the paint."
To produce a top-notch product each and every time, Kim signed up with Industrial Finishes & Systems in 2019, for a lot of different reasons.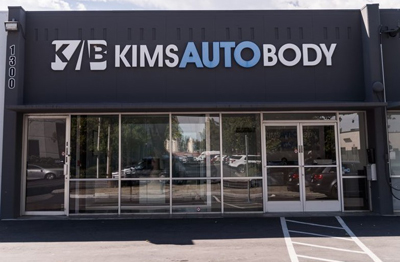 "We knew one of their reps, Ray Alegeria, so when he joined Industrial Finishes, we followed him there," Kim said. "We knew that he was a great rep, and he helped us during our early years, so we knew it would be an awesome fit for us, and we were right."
Kim, 41, had no plans to take over the family's shop, but when his late father, Keene, got cancer, he decided to step in and begin running the business in 2006. It was a trial by fire scenario, but by working hard and asking a lot of questions of his vendors and insurance adjustors, he has enabled Kim's Auto Body to post better numbers every year, with a two-year interruption caused by the pandemic.
Taking over a 26-year-old shop was a real game changer for Kim, he said.