Maaco Celebrates 50th Anniversary Milestone at 2022 Convention
Written by Abby Andrews, Autobody News
Published Nov. 18, 2022
Maaco looked back at 50 years in business--and forward to its next 50---at its 2022 convention, held Nov. 15-18 in Carlsbad, CA.
The second day of the gathering, Nov. 16, featured messages from Maaco's senior leadership team, a message from keynote speaker Mike Anderson of Collision Advice and several breakout sessions for attendees. The recipient of the Tony Martino Hall of Fame and Vendor Partner of the Year awards were also announced.
The convention ran through the evening of Nov. 18, featuring a charity golf tournament, vendor trade show, fall festival and a gala.
"Let me be clear---we are proud to be celebrating the achievements of the past, but it is equally important to stay hungry, ensuring many more achievements for the future," said Chris Dawson, president of paint and collision for Driven Brands.
Tony Martino Hall of Fame Award
The award was presented by Maaco founder Tony Martino's son, Mark Martino, who shared memories of how his dad got the franchise started, opening the pilot location in Wilmington, DE, in 1972.
"I remember saying to Dad, 'Are you sure anyone would want to do this for a living?'" Martino said. "He hesitated for a minute and then said emphatically, 'Yes, I'm sure someday we are going to have hundreds of these Maaco centers all over the country.'
"His prophecy proved true and here we sit, 50 years later, celebrating his foresight and dedication," Martino said.
Martino said his dad loved franchising because he loved being a part of helping small business owners become successful, knowing what it was like to start with little or no capital or experience. He loved seeing franchisees become successful, able to take care of their families.
The Hall of Fame award named for Tony Martino is given to an owner who personifies Maaco's founding values of providing quality service at a fair price.
This year, it was presented to Jay Patel, who owns 11 Maaco stores in four states and, over his 30+ years with the franchise, has gotten much of his extended family involved in the business.
"I am so grateful for this honor, and I give all the credit to Tony Martino," said Patel. "He taught me so much that I have applied to my business to be successful. The most important thing was taking care of the customer. His saying was 'paint a car, make a friend,' and my goal and my team's philosophy is to treat them like family, and the goal is always to make a customer for life, whatever it takes.
"I believe in the Maaco system," added Patel. "Maaco has the successful formula, and all I have done is applied it. I don't try to reinvent the wheel---they already invented it, and it works."
Keynote Message
Anderson spoke about how franchisees should grow their teams to grow their business.
"Everybody on the collision side in the U.S. has a five- to eight-week backlog of work," Anderson said. "What everyone does not have is people."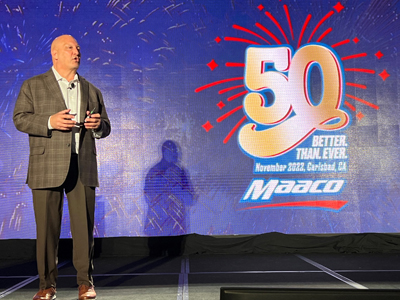 To grow a team, owners have to either help existing staff get better at what they do, or bring on new hires. And to do that, owners must create an environment where people don't love their jobs---they love the organization.
"You want them to love working for YOU," he said. "Culture is your commodity, the goose that lays the golden egg every single day."
Anderson said the industry has a whole does not have a staffing shortage---it has a "we don't pay enough" problem.
"We have got to offer better compensation," he said.
Another key is to lay out a career path for employees, so they see how they can advance.
The lines between collision work and what Maaco does are becoming more blurred, Anderson said, thanks to increased ADAS features on cars that make recalibration necessary to complete what was once a simple paint job on a front bumper. Improper recalibrations can cause accidents, leading to liability issues.
"This is not a message of doom and gloom; it's an area of opportunity," Anderson said, noting Maaco owners might be able to expand their services to include ADAS calibrations for other area shops.
Anderson said Maaco owners also need to make sure their customer service is modern, not antiquated, offering conveniences like concierge service, email receipts and a 24/7 digital presence, so customers feel like they can start the repair process even outside of normal business hours.
Maaco's Online Estimating Tool, launched pre-pandemic in 2019 and now on its fourth version, is a great way to do that, Anderson said.
"It's difficult if not impossible to write an estimate based on a photo, but look at it as a marketing strategy to capture a hot lead outside of business hours," when most crashes occur, he said.
Shops like Maaco also have to dominate online reviews, as voice-activated searches for things like "best auto paint repair shop near me" only return the top result.
To do that, shops need "social proof," like online reviews, to vouch for their ability to fix a car.
Shops like Maaco also need to regularly communicate with vehicle owners during the repair process, even if it's a "no update" update.
"Keeping them informed drives the customer experience," he said. "Let them know you're still working on it, you haven't forgotten them."
Vendor Partner of the Year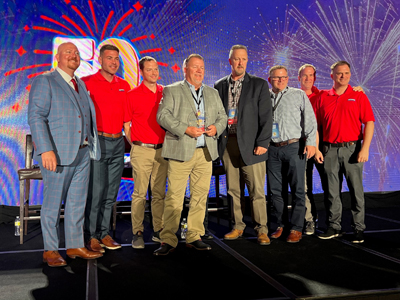 Senior Vice President of Strategy and Franchise Administration Chris Porcelli presented the Vendor Partner of the Year award to co-winners Sherwin-Williams and 3M, who have both partners for more than a decade.
Media Roundtable
Executives, including Dawson, Maaco COO Daryl Hurst, Porcelli and Driven Brands Senior Vice President of Marketing Hannah Whitesides, participated in a media roundtable.
Dawson opened the roundtable by saying 2021 was a stellar year, as Maaco assembled an incredible leadership team, listened to franchisees and leveraged data for the first time to look at what was happening and what needed attention within the franchise.
"Most importantly, we listened to consumers, started using research to find out what they were asking from us and putting together a plan, and the results are beginning to show," Dawson said.
Porcelli said Maaco, as part of Driven Brands, is using scale to support its partners.
Whitesides talked about some of the ways Maaco has acknowledged its 50th year, including celebrating a shop-level employee every week and partnerships with other companies, like one with Ray Ban to give away 50 pairs of golden sunglasses.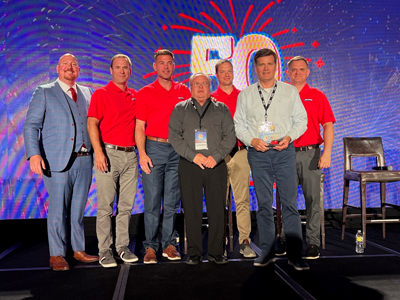 Going forward, Hurst said Maaco will "stay true to our core, look at the evolution of vehicles and what the consumers need, and leverage data to help franchisees to do business in the future."
In 2023, Porcelli said, Maaco will be focused on growth, specifically strengthening fleet partnerships.
"We just went through one of the most trying times as a nation," Dawson said. "We didn't just thrive, but Maaco was there for franchisees every step of the way. We came out in a better place. Existing franchisees want to open more stores, and we couldn't be more excited for that growth."
Later, Whitesides expounded Maaco's marketing strategy going forward: a mix of "retro" branding and embracing new technology to reach bigger audiences.
The resurrection of the "Uh Oh, Better Get Maaco" slogan for the brand's 50th anniversary---first launched in 1981---was a "fortunate coincidence of timing," Whitesides said, as other brands brought back past slogans and logos too.
But Maaco's Online Estimating Tool is a big part of marketing the brand as a repair shop that can always be reached, something younger customers expect.
"In the early days of the pandemic, it was tremendous to have a way for customers to be able to contact us," Whitesides said.
She said in 2022, the tool has generated $20 million in sales for Maaco stores nationwide.
Maaco is investing in new technology to make franchisees' jobs easier, including tools to organize leads and using data to find out, at the individual shop level, where customers are coming from, to tailor marketing.
"We are balancing traditional media and also biting off bigger pieces of the digital pie to reach bigger and more diverse audiences," Whitesides said.
Whitesides also touched on some of Maaco's and her personal philanthropic efforts.
Whitesides is a board member for the Women's Industry Network (WIN), using that platform to not only learn more about the industry, but also to help encourage more women to look at careers within it.
Driven Brands also works with the Collision Repair Education Foundation (CREF), sponsoring Benchmark Grants to fund collision repair education programs across the country.
"That's interwoven with helping franchisees with recruitment," Whitesides said.
The Maaco Heart Fund raises money to help shop employees who goes through hardship, Whitesides said. Recently, two employees in a Fort Myers, FL, shop lost everything when Hurricane Ian hit the area, and the fund was able to support them.
Driven Brands' collision and paint group supports the Cystic Fibrosis Foundation, raising hundreds of thousands of dollars for cystic fibrosis research and awareness, especially in Driven Brands' hometown of Charlotte, NC.