Huffman Collision Center Chooses Audatex, a Solera Company, for Streamlined Estimating, Reliable Tech Support
Written by Autobody News Staff
Published Oct. 19, 2022
In 2012, David Dietert became the owner of the only auto body shop in Huffman, TX: Huffman Collision Center.
He said the I-CAR-certified facility operates mainly off word of mouth.
"I think what sets us apart is our demeanor and the way we approach customers," Dietert explained.
Huffman Collision Center
Location: Huffman, TX
(281) 361-5600
Facebook: @Huffman-Collision-Center
Company At A Glance...
Type: Collision Repair
Facility Employees: Three
In Business Since: 2012
Number of Locations: One
Production Space: 5,000 square feet
Dietert maintains customer satisfaction has two parts: friendly service and proper repairs. He implements the Mobile Estimating System (AudaMobile) by Audatex, a Solera company, to ensure his technicians begin the repair process on the right foot.
"I started looking into a mobile estimating system around 2016 because an insurance adjuster said I was required to do so," he explained. "I went with Solera's product because it was way less expensive than the competition and so much easier to use than what I had in the past."
According to the Audatex website, AudaMobile assists with efficient claim creation, vehicle identification, damage capturing and repair cost estimation while streamlining approved repair workflow.
Dietert said as the owner, he sees the benefits of the mobile estimating system more than anyone else. "
When you have a smaller operation as I have here, it's not something you can put on the company itself," Dietert said.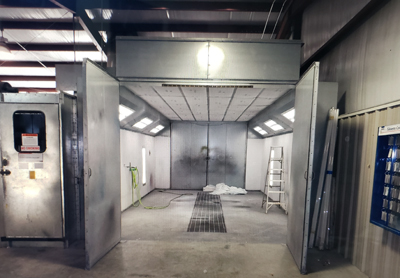 He added insurance companies know Audatex, which makes the claim process more manageable.
When it comes to tech support, Dietert described how Audatex helped him rectify an email hack he experienced a year ago.
"When I upgraded my computer from Windows 7 to Windows 11, the [repair] data did not transfer over," he explained. "So, I called my contact at Audatex to assist me."
Dietert said the first support tech he spoke with "laboriously" tried to update the data and figure out why it didn't transfer over.
"I had my doubts at first, but they said, 'don't worry, we'll get it taken care of for you,'" he recalled.