From the Desk of Mike Anderson: How to Shape 'Customer Experience' to Set Your Collision Repair Shop Apart
There's a difference between customer service and customer experience, and focusing on the latter can pay off.
Written by Mike Anderson, Autobody News
Published Nov. 8, 2023
One of things I have been really focused on lately is the collision repair customer's experience. As I noted in a couple of previous columns with one of my teammates, Sheryl Driggers, customer service and customer experience are definitely two different things. When you think of customer service, that's how we treat the customer. The customer experience is how the customer felt treated. What are their perceptions of us, what emotions do they feel when they interact with our brand.
From what I see, many shops focus on customer service, but neglect to think enough about the customer experience.
I've recently attended about a half-dozen dealership conferences put on by various OEMs. The conferences are designed to help vehicle retailers take a new look at the customer---or "guest"---experience.
One OEM, for example, has a piece of alignment technology that service customers drive over in the dealership's service lane. As they do, the technology checks the tire wear and alignment specifications of the vehicle, in part to give the dealership an opportunity to upsell the customer.
But the system also reads the customer's license plate, alerting the in-dealership Starbucks of that customer's arrival. If the customer has been in before and the Starbucks knows that customer's drink of choice, they can have it ready for the customer.
Now that's a pretty extraordinary experience, isn't it?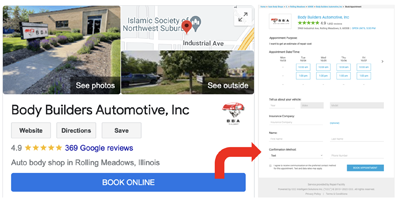 At another conference, they talked about how Tesla is shaping many consumers' expectations for vehicle repair. Since Tesla sells directly to consumers versus the conventional dealership model, Tesla drivers might not have a Tesla service center in their area. But Tesla has countered this by doing more mobile service. I'm not saying that is or isn't the way to go, but it IS shaping customer expectations. Perhaps it's time to think about offering concierge pick-up or drop-off service.
Also discussed at one or more of the conferences was that consumer surveys have found "appearance" is very important to customers. When I had my shops, my technicians did not wear uniforms, and I'm not here to say just because somebody is wearing a uniform with an OEM patch it means they can fix a vehicle. I'm not saying "clothes make the man," as the old expression goes. But appearances likely impact the customer's perception and experience. It can communicate to a consumer that the uniformed person at a minimum has access to the training and tooling or equipment to properly repair their vehicle. And that perception can have an impact on their customer experience.
The other thing often talked about at the OEM conferences was that consumers are looking for a self-service platform to book an appointment. I've seen data showing about 43% of accidents occur outside of normal business hours today. So if that's the case, you have to have a digital presence 24 hours a day, seven days a week, so the customer can engage with you at their convenience---just as they do when they want to buy something from Amazon, CVS or other retailers. A self-service appointment scheduling service can be a big part of that.
Do a Google search for "Body Builders Automotive in Rolling Meadows, Illinois." When you do, you'll see that shop's Google business listing has a "book online" appointment feature, that lets a customer choose a date and time for an appointment at the shop. It's a new feature CCC Intelligent Solutions offers to shops that have subscriptions to CCC Engage. There may be other ways of tying something similar to your Google business listing.
Another key point made at the OEM conferences: It's more important than ever to make the customer's experience of doing business with us easy and transparent. Most shops report an increasing number of situations in which the vehicle owner is having to pay something more out of pocket---beyond their deductible---to cover things their insurance company is not. That can be a difficult challenge to navigate, right?
That's where transparency is key. I think we need to spend more time in the beginning of the process educating the customer, in a way that provides the needed transparency but doesn't scare them away. We need to explain why what they may need to pay out of pocket for is important to them and will impact their vehicle's performance and safety.
That upfront education process is equally important in explaining the time the repairs will take. Some of that time---parts delays, or how long insurers take to respond to supplement requests, for example---is at least in part beyond the shop's control. But what you can control are the customer's expectations and experience. That has to happen both at the start and throughout the process. At times, it may require what may seem like over-communication.
But in the past, it was easier to have a mindset that as long as the car looks good in the end, they'll forgive us for how long it took. But now quality repairs are just the expected and necessary endpoint. It's those companies that can pair that with an extraordinary customer experience who will end up as the winners in this industry.