Page 1 of 2
CAA Glendale/Foothill Chapter Meeting Focuses on SCRS Blend Study, Networking
Written by Stacey Phillips, Autobody News
Published July 6, 2023
Members of the Glendale/Foothill chapter of the California Autobody Association (CAA) recently came together at the Odyssey Restaurant in Granada Hills, CA, to network, learn from one another and hear about topical issues impacting the collision industry.
Part of the June 20 event included a presentation from Aaron Schulenburg, executive director of the Society of Collision Repair Specialists (SCRS). Schulenburg shared insight on the SCRS Blend Study Report: A comparative analysis between full refinish and blend operations.
The event was supported by Annex Automotive & Industrial Finishes and 19 Industries Collision Repair Equipment.
More than 90 people were in attendance, representing 35 different collision centers, as well as vendors and other collision repair professionals.
Similar to other CAA chapters, Glendale/Foothill periodically holds board meetings where attendees discuss potential topics and the state of the industry.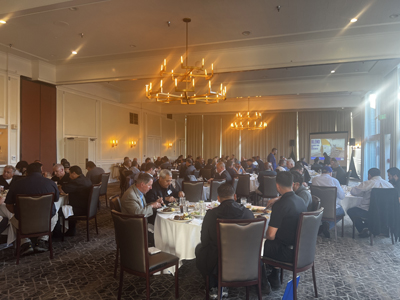 During a May board meeting, CAA Glendale/Foothill Chapter President Juan Martinez suggested inviting Schulenburg to discuss the SCRS blend study since it was becoming a hot topic industrywide.
"Following the decision to invite Aaron, CCC changed their position due to the blend study, which ignited a lot of buzz," said Martinez. "The timing was right."
"The CAA saw importance in the topic and wanted to make sure their members had exposure to the newest information on the topic," said Schulenburg. "Exposure to the details of the project, the results and ultimately, the developing responses from the information providers is important to collision repair professionals all over the industry."
Schulenburg said there has been a lot of interest in the specifics of what SCRS performed and what the ongoing conversations have looked like.
"Many collision repair businesses are actively evaluating how they address their own practices and reflect them in their repair plans," explained Schulenburg. "The presentation is designed to help gain a better understanding."
He said no one needs to feel alone in this industry.
"There are a lot of organizations working to improve the industry, and it's made possible through direct involvement," Schulenburg noted. "Being a part of the association---locally and nationally---is being a part of a larger voice, a more recognizable community. So many of the initiatives we are involved with in the industry are made possible by reinvesting our members' dollars back into industry resources that benefit repairs."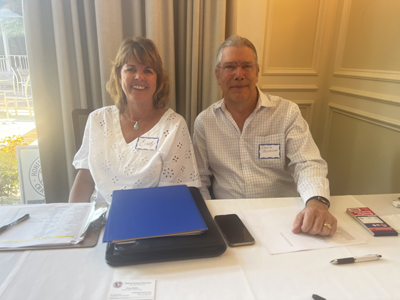 Chuck Bistagne, treasurer of the Glendale/Foothill chapter and past chapter and state president, said he was impressed by the presentation.
"It was great to see so many shops in attendance," said Bistagne. "Aaron did a great job presenting the research and showing it in a way that was not biased towards shops or paint manufacturers. It was done in a way that we can explain to the insurance companies why there is such a drastic change in labor times."
One of the benefits of belonging to an association like CAA, according to Bistagne, is the networking aspect of the meetings and sharing ideas with other shop owners and vendors.
"The CAA and its chapters are always looking to host meetings on the topics most relevant to body shops in California," said CAA Executive Director Rick Johnson. "Chapter meetings are a great opportunity for shop owners and employees to be kept up to date on the issues that most affect our industry."
For more than 50 years, the CAA has represented auto body shops and their interests and is currently the only association dedicated to protecting and advocating on behalf of the collision repair industry in California, according to Cindy Shillito, CAA Southern California representative for the Glendale/Foothill, San Diego and Los Angeles/Orange County chapters, and the meeting coordinator.
CAA's chapters are comprised of individual and independent businesses in the collision repair industry. The organization's mission is to enable the auto body industry to survive and prosper by helping members produce a quality repair for the consumer at a fair price for a fair profit.
Jay Flores, owner of Tony's Body Shop in Oxnard, CA, said being part of CAA has many benefits, including education and providing resources.
"When we have a CAA meeting, it always has a lot of substance and what we learn can be used in our businesses," said Flores. "I like to attend the meetings because I come back educated and ready to continue the journey of being in business in the body shop industry."
Flores encourages other shop owners and managers to get involved in their local association. "People will complain about our industry, yet they won't get up out of their chair and go attend a meeting and get educated," he said. "By yourself, the ocean can come and sweep you away, but as a group, we stand a chance."