Page 1 of 2
Axalta's Cromax® EZ Waterborne System Helps Auto Body Shop Look to the Future
Written by Autobody News Staff
Published Oct. 19, 2022
The family at the helm of Woodman Collision Center, Inc., in Alton, IL, certainly understands how to build a multi-generational business.
The business's first location---then known as Woodman Auto Body---was established in 1947 by Jess O. Woodman Sr. His son, Jess O. Woodman Jr., learned the trade from his father and owned multiple Woodman shops in the area.
Jess H. Woodman, son of Jess O. Woodman Jr., also followed in the footsteps of his father and grandfather, and began working in the family business as a teenager.
Woodman Collision Center, Inc.
Location: Alton, IL
(618) 466-1450
www.woodmancollisioncenter.com
Facebook: @WoodmanCollision
Company At A Glance...
Type: Collision Repair
Facility Employees: 11
In Business Since: 1947
Number of Locations: One
Production Space: 14,000 square feet
Jess later worked for two decades for a couple insurance companies, but in 2004, he and his wife, Ginger, opened Woodman Collision Center's current location in Alton.
Jess and Ginger's sons, Ryan and Chad, are now the fourth generation of Woodmans to operate the auto body shop, taking over their parents' business.
Ryan Woodman has worked in the shop from the day his dad opened it in 2004, having grown up working alongside his dad and grandfather.
"It was just something I enjoyed doing in the garage with my dad when I was younger, and when I graduated from high school, I decided to give it a try as a career and enjoyed it," he said.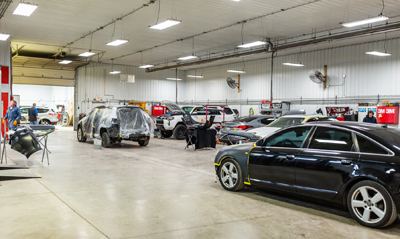 Chad Woodman, on the other hand, found his place in the family business in 2008 after graduating from college with a degree in criminal justice.
"I got involved in the business side, working with customers and insurance companies, which was something I enjoyed," he said.
Today, the I-CAR Gold certified shop repairs an average of 120 to 150 vehicles per month.
The brothers and co-owners said the industry has changed a lot since the shop opened 14 years ago.
"There was no such thing as a pre-scan and a post-scan; you didn't have all the sensors," Ryan said. "Paint was single-stage or a base clear. Now you've got everything from tri-coats to four coats. You've got to scan every car that comes in the door now."