ALLDATA Gives San Antonio Auto Body Shop All the Information Needed to Do Repairs Right
Written by Autobody News Staff
Published Oct. 20, 2022
Northside Collision Paint & Body Inc. in San Antonio, TX, was established in 2001, when Mark Gutierrez---a longtime Allstate agent with no collision repair experience---purchased a small body shop, determined to set a higher standard for collision repair in the area.
Mark's son, Javier Gutierrez, began working for the family business at the age of 12, working his way up from detailing to his current role as co-owner and production manager, with a six-year stint in the U.S. Army along the way.
Northside Collision Paint & Body Inc.
Location: San Antonio, TX
(210) 496-7443
www.northsidecollisionsa.com
Facebook: @NSCollisionSA
Company At A Glance...
Type: Collision Repair
Facility Employees: Six
In Business Since: 2001
Number of Locations: One
Production Space: 22,000 square feet
Javier Gutierrez also took a detour to Appleton, WI, when he was a young teen, where he became the youngest graduate of Jaguar North America's aluminum cosmetic and structural repair certification program. Gutierrez said the repair standards he learned there influenced the standards he applies to all makes and models that come through his shop now.
More than two decades after Northside Collision's opening, the 22,000-square foot facility repairs an average of 30 vehicles a month.
"It doesn't matter if you have a $100,000 car or a $10,000 car, we fix them with the same standards," Gutierrez said. About 10 years ago, the shop had several OEM certifications and participated in multiple insurance companies' DRPs, as the then-general manager had a "DRP mindset," Gutierrez said.
"He thought if we could do more cars, we would make more money," he said. "My solution was, we need to make more money with less cars." This meant the shop had to get off DRPs and start billing for all work performed.
Gutierrez said the chances of repairing a vehicle correctly while maintaining profitability under a DRP contract are slim to none.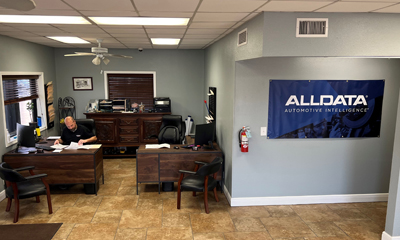 "Most [insurance companies] do not pay for or allow for procedural repairs on their estimate," he said. "They want the bare minimum on an estimate because they are trying to be cost effective, which can sacrifice both the safety and overall completeness of a repair."
Gutierrez said he wanted to get out of the DRPs, so he brought in ALLDATA to help with the transition to researching correct procedures for every repair.
"It completely opened our eyes," he said.
Gutierrez said his shop now uses a third-party company to perform diagnostic scanning---as it has invested the time, money and training into OEM-specific equipment---but uses ALLDATA Collision to research repair procedures.