Page 1 of 2
ALLDATA a 'Strategic Partner' for Missouri Shop in Making Sure Every Repair Performed Correctly
Written by Autobody News Staff
Published Sept. 21, 2023
Auto Beauty Center in Independence, MO, started out offering quick services like alloy wheel restorations and paintless dent repair. It later bought a mobile business offering detailing and minor collision repair, and brought those services into its retail location, along with mechanical repair.
Owner Brett Starr knew he was on to something. With a background in sales and marketing, he knew business is all about relationships. He also knew from his research that most shops pull in customers from a 6-mile radius and usually only see their regulars once every five years.
Auto Beauty Center
Independence, MO
816-252-1978
autobeautycenters.com
Facebook: @autobeautycenter
Instagram: @autobeautycenters
YouTube: @autobeautycenters6653
Company At A Glance...
Type: Collision & Mechanical Repair
Facility Employees: 18
In Business Since: 2016
Number of Locations: One
Production Space: 25,000 square feet
But his shop offers so many services in one place---including its own fleet of rental cars---making it so easy to keep a vehicle looking and running like new, it was drawing customers from all over the Kansas City metro area, and they were returning more frequently, allowing Auto Beauty Center to build a loyal customer base that trusted it.
"There's a certain amount of the population that likes to keep their cars looking really nice, and we just make everything super convenient," Starr said.
It wasn't long before some of those regular customers needed more extensive collision repair services, the kind of jobs big enough to involve insurance companies.
"We did one or two [jobs], and thought we had to go full speed into this, because it's a great opportunity," Starr said.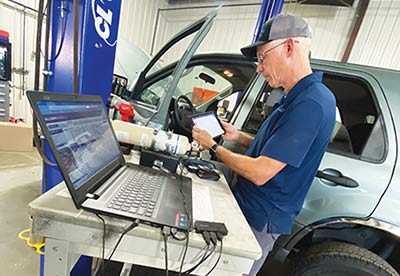 However, one skillset not in Starr's background was collision repair.
"I was nervous, never having worked in a shop as painter or body tech, but I wanted to make sure that we were following all the proper procedures," Starr said.
Starr said he got to work putting together a plan to get into collision repair---including the tools he needed. His CCC representative recommended ALLDATA, because it automatically syncs with CCC's estimating software, which the shop was already using. Starr said that turned out to be the right move.
"ALLDATA has played a big part in our growth," Starr said.
The shop now uses ALLDATA Repair software and ALLDATA Diagnostics, which turns a tablet into a scan tool to pull trouble codes and works with the software to look up OEM repair procedures for any vehicle that comes into the shop.
ALLDATA helps the shop repair vehicles quickly and accurately, which Starr said keeps cycle times down and customers happy as the shop processes about 300 vehicles per month, between all of the services offered.
"It's impossible to know everything about every vehicle out there, especially as things are changing rapidly on cars, with more ADAS and more electronics," Starr said.