AkzoNobel Professional Consulting Services Coaches Terry Cullen Chevrolet to Achieve KPI Success
Written by Autobody News Staff
Published Oct. 20, 2022
Just like a sports coach can make all the difference in leading his team to victory, Terry Cullen of Terry Cullen Chevrolet in Jonesboro, GA, sees his relationship with AkzoNobel like that of a coach.
The sports metaphor is an easy one for Cullen to embrace. Cullen's dad and his two uncles played hockey professionally in their native Canada. After their professional sports careers, the brothers became owners of Chevrolet dealerships. As a result, Cullen grew up in the business, working for his dad during his high school and college years.
Terry Cullen Southlake Chevrolet
Location: Jonesboro, GA
(770) 968-4444
www.terrycullen.com
Facebook: @terrycullenchevrolet
YouTube: @terrycullenchevrolet
Company At A Glance...
Type: Collision Repair
Facility Employees: 75
In Business Since: 1990
Number of Locations: One
Production Space: 10,700 square feet
After graduating from the University of Michigan with a degree in business, he sold cars in Windsor, Canada, and Detroit and worked his way up to become a sales manager for a Pontiac and Buick dealership in Lapeer, MI.
His career evolved to focus on the finance side of dealerships, and Cullen credits his "persistence removes resistance" drive for landing him an opportunity to own a dealership with a move to the Atlanta suburbs in 1990.
Terry Cullen Chevrolet began in Morrow, GA, but in seven short years---fueled by the climate of the 1996 Atlanta Olympics---grew to its current Jonesboro location. The dealership offers new and used car sales, along with service, parts and a body shop.
With Cullen's strong business and finance side, he was a skilled entrepreneur. But his knowledge of body shop operations was where he needed the most support.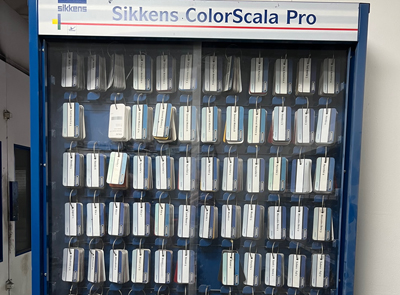 Enter AkzoNobel. Just as a sports coach guides, mentors and helps achieve goals never thought possible, AkzoNobel became Cullen's personal coach.
Cullen relied on AkzoNobel and its professional consulting services to make a key difference in the life of his body shop.
"Several years ago, we were moving on from a competitive waterborne refinish system. We interviewed many paint companies and Sikkens was the clear winner. But the product is just the beginning. What continues to blow our minds is the business and technician support AkzoNobel provides to its Sikkens customers," Cullen said.
The timing couldn't have been better. Cullen had recently promoted a team member, Bart Benedetti, into the body shop manager role. With a strong work ethic, Benedetti quickly rose through the ranks at Terry Cullen Chevrolet but didn't have a lot of body shop experience.