3M™ Performance Spray Gun is 'Go-To' Gun at Santa Margarita Auto Body Shop
Nearly eight months ago, Mitch Barrett was researching spray guns as the head painter at Santa Margarita Auto Body in California. He learned about the 3M™ Performance Spray Gun from Stan Ehresmann, a regional business manager at 3M.
"He encouraged me to try it and wanted to know what I thought," said Barrett. "I've used it every day since then."
In addition to being cost-effective, Barrett said ease of use and dependability are of the utmost importance when choosing a spray gun, and the 3M gun meets both those requirements.
"This gun is great," said Barrett. "You can feel comfortable while using it and you don't feel like anything is going to go wrong. It's my 'go to' gun."
Barrett estimates he has probably spent thousands on spray guns over the last decade. Many of them have been complicated to set up and use.
With the 3M™ Performance Spray Gun's simple design, he believes someone with less experience can use the gun and deliver a consistent and professional paint job.
Since using the gun, Barrett has found it is extremely versatile. With a change of the replaceable atomization heads, he can spray a full range of coatings, including primer, sealer, basecoats, topcoats and clearcoats.
Because the paint doesn't pass through the body of the spray gun, cleanup is quicker and easier than a traditional spray gun.
"I've painted everything from a 1990 Honda Civic to a brand new Bentley," he said.
With multiple jobs taking place simultaneously at the collision repair facility, Barrett said it can get overwhelming at times.
"I may have six bumpers for six different cars in six different colors. Having a gun like the 3M™ Performance Spray Gun allows you to pop on every different color really quickly," he said. "This makes the process go a lot faster, with a shorter amount of time spent in the booth."
Established in 2006, Santa Margarita Auto Body has a total of seven employees. Mitch and his brother, Tyler, work at the shop, owned by their father, Dennis.
With its versatile design, the 3M™ Performance Spray Gun can be easily converted to spray from either a gravity cup or pressurized source for bulk spraying applications like RVs and fleet vehicles.
The guns are made from an advanced impact-resistant, stainless steel-reinforced composite material to reduce its weight by up to 50% compared to conventional metal spray guns.
"That's important because any time you are working with plastic and air, it can tend to generate some static," said Rob Blue, collision customer specialist, 3M Automotive Aftermarket Division. "The 3M™ Performance Spray Gun is all about precision."
He said the 3M™ Performance Spray Guns are easy to clean, and the company is receiving good feedback on transfer efficiency and coverage.
"The transfer efficiency of most metal guns is in the range of 65 to 72%," said Rob. "Third-party testing showed a high 78% transfer efficiency while spraying automotive base coat, exceeding the other leading metal spray guns tested."
He said this can equate to potential savings for shops on their coatings.
Prior to the guns being released in 2020, a series of field tests were held with auto body shops across the country.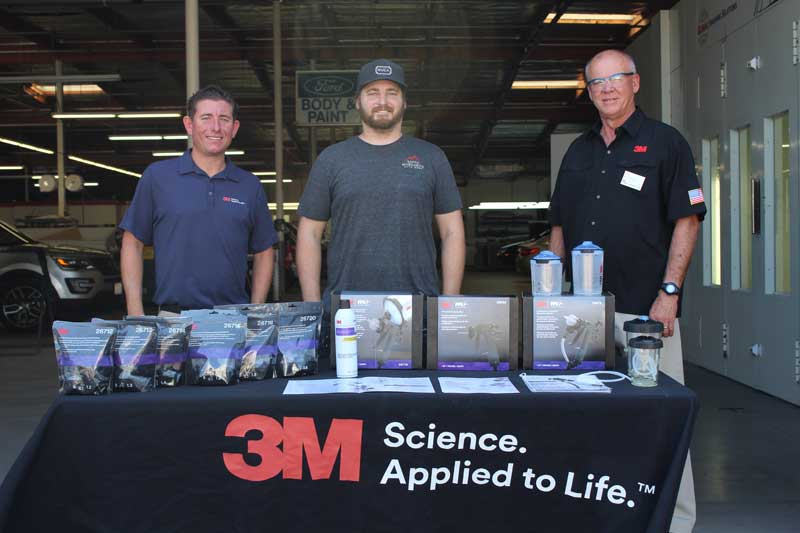 Brandon Russell, left, and Rob Blue, right, both collision customer specialists, 3M Automotive Aftermarket Division, with Mitch Barrett at Santa Margarita Auto Body.
"A lot of the painters in the industry like the lightweight 13.3-ounce gun because they are painting all day long," said Brandon Russell, collision customer specialist, 3M Automotive Aftermarket Division. "They also love how easy the cleanup is."
The spray gun weighs 8.4 oz with gravity nozzles and 13.3 oz with pressure nozzles to enhance comfort without sacrificing performance or durability, according to Russell.
"Innovative quick-change replaceable nozzle technology means cleanup can be as simple as a twist and a wipe," he said. "Every time a painter puts on a fresh nozzle, it's like getting a brand new spray gun."
With quick-change replaceable 3M™ Performance Gravity HVLP Atomizing Heads, cleanup involves twisting the locking collar, removing the atomizing head and wiping the needle clean.
"The 3M™ Performance Spray Gun is so much different than the other guns I've used," said Barrett. "It's lighter, feels good in your hands and you just know that you are going to come out of the paint booth with a job well done."