Vehicle Technology Highlighted During 2023 CES Show
Written by Stacey Phillips, Autobody News
Published Feb. 8, 2023
Technological innovations, new product debuts and a wide range of company announcements were all part of the Consumer Electronics Show (CES), held Jan. 5-8 in Las Vegas, NV. Owned and produced by the Consumer Technology Association (CTA)®, CES features all aspects of the tech sector, including automotive.
Considered one of the most influential tech events in the world, some of the largest brands---including Google, Amazon and Microsoft---showcased their products and services at the event. This year's theme, "Human Security for All," highlighted sustainability and solving global challenges.
More than 115,000 industry professionals attended the January show, which was 70% larger than in 2021 and featured more than 3,200 exhibitors from more than 173 countries, territories and regions, including 1,000 startup companies.
Show organizers said the automotive section was "bigger than ever," with nearly 300 exhibitors in the Las Vegas Convention Center West Hall. Attendees had the opportunity to see concept cars, connected vehicles, autonomous mobility and other vehicle technology firsthand from companies such as GM, Waymo and Mobileye.
"At CES 2023, new innovations promise to change our world for the better," noted CTA President and CEO Gary Shapiro during CTA's State of the Industry address. "Companies big and small are showcasing innovations in mobility, digital health, artificial intelligence, robotics, food tech, smart home, digital assets and more."
Shapiro said new technologies keep drivers and passengers safer and more comfortable on the road, and carmakers are leading efforts to build a greener and more sustainable future.
According to CTA research, consumers are increasingly embracing the electric vehicle (EV) experience.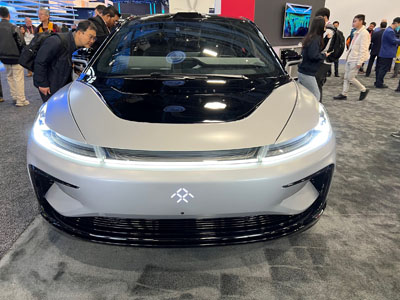 "Vehicle OEMs are investing billions in EV tech, charging stations are showing up in cities and across highways virtually worldwide, and consumers are procuring the latest line of EVs," said Prabhat Agarwal, CTA senior director of research and trends, in his article, "EVs Drive the New Car Revolution." "All these factors are leading indicators and encouraging signs for an industry that is early in its lifecycle. EVs are clearly on a growth trajectory, as will be on clear display at CES 2023."
One of the keynotes was delivered by Oliver Zipse, chairman of the Board of Management for BMW. Zipse introduced the "perfect digital car of the future"---the NEAU KLASSE generation of vehicles---and unveiled the i Vision Dee, a BMW concept EV equipped with adaptive artificial intelligence (AI). The vehicles are expected to be produced in 2025.
"We are able to explore the full potential of digitalization to transform the car into an intelligent companion," said Zipse.
Stellantis CEO Carlos Tavares also delivered a keynote address, which included the company's vision for making mobility clean, safe and affordable for all. Tavares unveiled the Ram 1500 Revolution Battery Electric Vehicle Concept and the Peugeot Inception Concept.
"We want to improve how people move, socialize, shop and entertain themselves," said Tavares. "We are enabling human connections, maintaining access to clean, safe and affordable mobility, and working side-by-side with our partners to provide freedom of movement."
Some of the new products unveiled during the week included Sony Honda Mobility's EV concept car, Afeela; Holon's autonomous and fully electric mover vehicle that can fit 15 people; Bosch's RideCare Companion, a smart sensor-based solution to enhance vehicle safety; and new vehicle technology from FORVIA, designed to create a more comfortable and customizable mobile environment for passengers. This year's show featured several LiDAR (light detection and ranging) companies showcasing their products for autonomous vehicles.
Each year, the CES Innovation Awards competition honors outstanding design and engineering in consumer technology products. This year, more than 50 products received an award in the category of Vehicle Tech and Advanced Mobility.
Another highlight during the show was the Indy Autonomous Challenge (IAC), which returned this year at the Las Vegas Motor Speedway on Jan. 7. The autonomous racing competition featured nine fully autonomous racecars that reached speeds of more than 190 mph. Team PoliMove from Politecnico di Milano in Italy and the University of Alabama won the second annual event.
At the conclusion of CES, Shapiro said, "The innovation unveiled this week will drive economic growth and change in meaningful ways to improve our lives and create a better future for the next generation."