Page 2 of 2
Third-Generation Tennessee Auto Body Shop Benefits from AkzoNobel's Sikkens Business Services (article continued)
"For a volume shop, it helps with real-time production," said Stinnett. "We get reports on the average time each department keeps each car, so we can nail down where it takes too long and try to improve. It's a huge benefit. It's also a real perk, because Carbeat is exclusive to AkzoNobel Sikkens customers."
Given the complexity of today's high-tech-equipped vehicles, Stinnett is also a stickler for adhering to OEM guidelines and standards. And he's proud of the company's reputation as a certified collision repair facility for more than a dozen automakers, including Honda, Acura, Subaru and Mopar brands.
"We are committed to ensuring the quality and safety of every repair and that repairs meet factory standards," said Stinnett.
Along with skilled, factory-trained ADAS technicians, Stinnett recently established a separate company devoted to conducting calibrations in-house. He's also invested in tools and equipment that meet OEM requirements.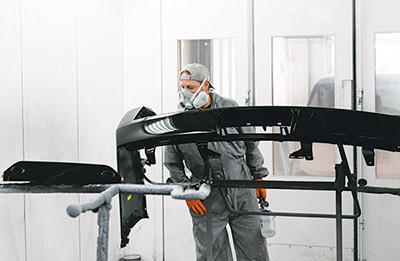 But Stinnett doesn't rely solely on scan tools and other diagnostic equipment from one source. He's cobbled together multiple resources. "I didn't buy just one of the ADAS packages," he said. "I've pieced it together by each individual OEM instead of investing in a one-size-fits-all package.
"The company has been open about a year," he added. "It's still a learning process. My goal is to open a storefront off site to attract collision work."
He's also pursuing other avenues to grow the business and anticipates the new building's oversized paint booth will draw new customers. "There are a lot of tour companies and wedding venues in the area, so we're going after the Sprint and Transit van market." With Rivian slated to service a local Amazon distribution center, he's also seeking Rivian certification.
An active community leader, Stinnett has drawn upon his AkzoNobel NAPG experiences to network locally, helping to establish the Tennessee Collision Repair Association and serve on its board. "I've gained so much from those NAPG conferences. It's one of the reasons for our success," he said.
"I enjoy the business. I enjoy entrepreneurship. We're fortunate we've been established for many years. And we're fortunate to have a great team and repeat customers whose families' cars were repaired by my grandfather and my dad," Stinnett said. "Not only are we a third-generation business, we're working with third- and fourth-generation customers."
AkzoNobel Coatings
800-618-1010
www.SikkensVR.com/us-en
Facebook: @AkzoNobelNARefinish
Twitter: @AkzoNobel_AACNA
Instagram: @AkzoNobelRefinish
LinkedIn: @AkzoNobel
YouTube: @AkzoNobel Refinish
To read more auto body shop profiles from the June 2023 Shop and Product Showcase, click here.