Their New Blowtherm Paint Booth is Already a Valued Team Member at Morong Body Shop (article continued)
Morong's is delighted with every aspect of their new Blowtherm booth; from the quality of the equipment to the strong support they receive from their authorized Blowtherm USA Distributor. "Mike Hites is always on top of it, and that makes all of our lives so much easier. If we ever have a question, he is right there with the correct answer and most everything can be solved with just a phone call. I tell people it's a great partnership---Blowtherm is an amazing product and Autoquip's customer support is outstanding! You need both factors when it comes to a major investment like a paint booth and we are getting both."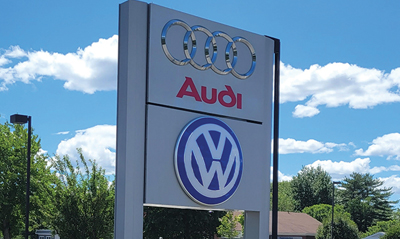 A bit of history… their story began when the VW Beetle became popular in the United States in the early 1950s. "We were a body shop first that later became a dealership," Hatala said. "One day, the managers here saw the new VW bug and were so impressed, they inquired about selling them and that's how it started. Today, we are the second oldest family-owned VW dealership in the United States."
Morong's runs a tight crew in their Body Shop, with a painter, a body man, and an assistant, in addition to their single downdraft Blowtherm paint booth acting as the fourth member of their team.
Since the VW dealership was founded in 1954, they've expanded their Porsche dealership in 1955; the Audi brand in 1970; and Mazda's brands in 1976. "Customer experience and exceeding customer expectations is vital to our business, and has been the key to the success for Morong over the last 65 years."
The plan at Morong Body Shop is to eventually expand to accommodate more volume in the near future which will involve moving their Blowtherm booth into the new space. "Before the end of the year, we will open our new Porsche dealership on our campus here in Falmouth. The hope is that we can expand the body shop into a larger space as it becomes available within our dealership. The future at Morong Body Shop looks bright and with our Blowtherm paint booth in the mix, it looks even brighter," explains the Body Shop manager.
Blowtherm USA & Training Center
810 No. Grove Road
Richardson, TX 75081
(855) 463-9872 or (262) 269-6265
sales@blowtherm-usa.com
www.blowtherm-usa.com
Facebook: www.facebook.com/people/Blowtherm-USA/100047363546123
To read more auto body shop profiles in the October 2022 Shop and Product Showcase, click here.