Page 1 of 2
The Rivian Evolution Revolution
Take a look inside the 4 million-square-foot facility in Normal, IL, where Rivian is building the EVs its CEO hopes will change the world.
Written by Stacey Phillips, Autobody News
Published Oct. 4, 2023
Whether they are out on an adventure or part of an electrified fleet, Rivian vehicles are all designed with a common goal---to help preserve the world for future generations.
Frank Phillips, Rivian's former senior manager of the Certified Collision Network North America, shared information about the manufacturer's adventure vehicles at the September CIECA CONNEX Conference in Bloomington, IL. Attendees also had the opportunity to tour the Rivian plant nearby in Normal, IL.
During his presentation, "The Rivian Evolution Revolution," Phillips discussed what the OEM is doing differently to impact the collision industry, both as an electric vehicle (EV) manufacturer and a certified collision program.
Rivian was founded in 2009 by Robert "RJ" Scaringe, the company's CEO. Scaringe named the company Rivian after the Indian River in Florida, where he grew up. Phillips said Scaringe, a graduate of MIT, was known by many as an ambitious young man who always wanted to own a car company and revolutionize the world with the vehicles he sold.
Phillips recalls walking into the Rivian factory for the first time and seeing Scaringe on the catwalk. After introducing himself to Phillips and the other 10 people he was with, Scaringe recalled who they were based on information from their resumes.
"At that time, we were about 4,000 employees and he was able to recall who we were," said Phillips. "That's the brain power he has."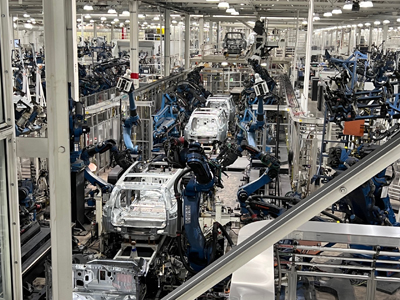 Since then, Rivian has grown to include 14,000 employees, which include more than 8,000 who work at the assembly plant in Normal.
"When you think of when the company started and where it is today, it really is an evolution," he said. "I think Rivian has taken on a revolution at the speed in which we've done some of the things we have."
Prior to Rivian's ownership, the plant was operated by Mitsubishi Motors North America (MMNA). Phillips said it was an industry-leading facility in the U.S. with more than 400 advanced robots. The plant closed in late 2015.
"They were going to repurpose the property and it was an opportunity for us to refurbish the facility," said Phillips. "That's part of our culture and what we stand for. Our intent is to make sure that we keep the world adventurous forever and we become sustainable for our kids to enjoy that adventure as well."
Since purchasing the property for $16 million in 2017, Rivian has invested about $4.5 billion into refurbishing the plant.
"It's probably one of the brightest, cleanest looking facilities you will walk into," said Phillips. "A tremendous amount of white paint has gone into getting where we are today."
The approximately 4 million-square-foot plant builds all Rivian models. Three vehicles, constructed of steel and aluminum, were launched in 2021: the R1T electric pickup truck, the R1S, a seven-passenger SUV, and the Amazon electric delivery vehicle (EDV). Earlier this year, a smaller version of the EDV was launched. The company is producing a fifth product, a service van, an iteration of the EDV designed to travel to Rivian owners' locations to take care of their service needs.
Phillips said the plant is home to some of the largest robots in the manufacturing business to accommodate EV construction. The massive robots build pieces for Rivian's EDV, which is 9.5 feet tall.
The refinishing section was designed to be a cutting-edge facility. "There isn't another one like it in automobile manufacturing," said Phillips.
With a focus on sustainability, Phillips explained each vehicle is painted off an individual packet so there isn't a wash out of lines, compared to a traditional manufacturing facility that pumps in paint. As a result, colors can be changed quickly as vehicles come through the paint shop.