State Farm Making Efforts to Reduce Supplement Delays
During the recent CIC meeting, a representative said the insurance company is dealing with staffing issues and third-party appraisers.
Written by John Yoswick, Autobody News
Published Nov. 9, 2023
The Collision Industry Conference (CIC) held in Las Vegas as part of SEMA week marked the 40th anniversary of the quarterly conference. The day-long event included a data privacy discussion about what shops should consider about "end-user licensing agreements" (EULAs) and what they mean in terms of the shop's and customers' data, an update on the Collision Engineering Program now in place at a half dozen schools around the country, and a panel discussion about consolidation in the industry.
Frank Terlep, chairman of CIC, opened the prior quarter's meeting this past summer with a call for the industry to address the issue of supplement processing, which he calculated was costing the industry $3.3 billion a year. At the most recent CIC, he turned his focus to transparency within the industry, saying vehicle technology is too critical to driver and passenger safety not to be "completely, 100% transparent in terms of what goes on in the repairs, what goes on in the whole process."
He also said there's a need for certification of the technicians performing ADAS work.
"Right now, we're at the beginning of what I'm calling the Wild West of ADAS services and calibrations," Terlep said. "We have an opportunity to shape the future of that segment of our business right now. We've got to find a way to get people who are repairing ADAS-equipped vehicles, calibrating these vehicles, to make sure they're doing it right and make sure they're trained to do it right.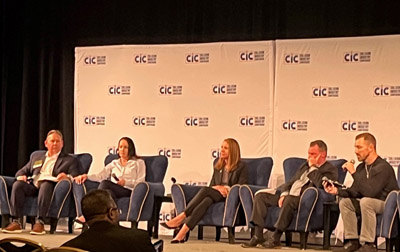 "It's critical in my opinion. We're at the stage of this business where we can do this," Terlep continued. "We've got to stop people from calibrating vehicles in parking lots. We got to stop people from calibrating vehicles in wash bays. We've got to stop people from calibrating cars in any other place other than a place where they need to be calibrated. I challenge this industry to do that."
During another committee panel discussion, Chris Evans, a property and claims consultant at State Farm, talked about efforts the insurer is making to reduce the delays in responding to claims reviews. State Farm experienced a hit in terms of staffing post-COVID, he said, but "we've hired about 500 appraisers in the last two years."
"We've also been dealing with more third-party appraisal services in the last three years than we ever have in in my 36-year career at State Farm," Evans said. "When you're managing those third parties, it's a lot different than directly managing your own people. And so we are stepping that back, if you will. And I think doing a fairly effective job, although we're still going to be using third-party appraisal services for some time."
He acknowledged the company is still working to determine which claims are best suited for a virtual inspection versus a physical inspection.
"I will tell you we haven't got that right yet," he said. "We definitely need to figure out when [one method] is more appropriate."
He said total losses dropping from about 20% to 17% of claims significantly ramped up the number and size of repairable vehicle claims the company has had to process. He said State Farm also has added 2 million policies in 2023, which also "has put a strain on the claims system."
Lastly, he said, State Farm is "attempting to create greater transparency in the claim and supplement process. We surveyed a number of body shops to get feedback from them on what works, what doesn't work, how could we improve it. We took that feedback and we're making those enhancements. So we still have a lot of work to do. We appreciate the partnership."