Page 2 of 2
Spanesi Americas Equipment Provides Schultz Collision Center with Reliability, Accuracy (article continued)
With a strong focus on following OEM procedures, Schultz said the Touch Electronic Measuring System ensures the measurements are accurate and are 100% within spec.
"I am proud how Spanesi products are showing our clients record improvements in their productivity," said Timothy Morgan, chief operating officer (COO) for Spanesi Americas. "It's great to help customers grow and expand so quickly."
Within the first week of using Spanesi products, Morgan said Schultz called and ordered more equipment because of the drastic change in workflow.
Although the shop repairs all makes and models of vehicles, it specializes in big trucks and vans. Schultz bought two Multibench Repair Workstations to perform minor to medium structural repair operations on vehicles. At the same time, the workstation allows for effortless ergonomic solutions to minimize technician fatigue.
The shop also purchased the six-meter 106 EXT Structural Repair Bench for longer, heavier vehicles up to 11,000 pounds. The pulling column can be mounted in 12 locations surrounding the bench, delivering 360-degree pulling capabilities around the car. The equipment has removable wheels so it can be moved throughout the facility.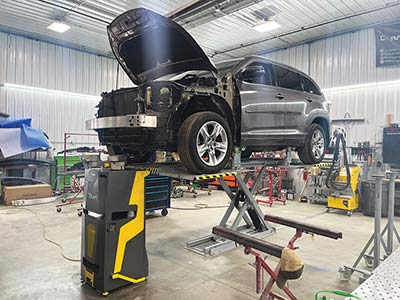 "My team really likes using Spanesi's state-of-the-art equipment and has found it is reliable and accurate," said Schultz.
A safe and proper repair with attention to detail is Schultz Collision Center's mantra and the standard it has set to achieve for every customer's vehicle. Schultz said Spanesi equipment helps them achieve that.
Since first working with Spanesi, Schultz has been impressed with the company's training and support. Each time new equipment was purchased, a representative came out to demonstrate the products and answer questions. Schultz employees have also traveled to Spanesi's training facility in Chicago for more in-depth, hands-on education.
"Service and support after the sale is key to our relationships with clients," said Morgan.
Schultz said when future equipment needs arise, whether it's a paint booth or other tooling and equipment, Spanesi will be the first call.
"We've been able to depend on them for customer service and support," he said. "If we ever need anything, they are right there, Johnny-on-the-spot."
Spanesi Americas Inc.
224-SPANESI (224-772-6374)
www.spanesi.us
Facebook: @spanesiamericas
Twitter: @spanesiamericas
Instagram: @spanesiamericas
LinkedIn: @spanesi-americas
YouTube: @spanesiamericas_official
To read more auto body shop profiles from the June 2023 Shop & Product Showcase, click here.