Auto Body Shop Keeps 95% of Diagnostics In-House, Thanks to asTech (article continued)
Morgan is taking full advantage of his asTech tools and keeping 95% of his scans and calibrations in-house.
"It's been enormous for us," he said. "Our asTech Duo offers our customers two types of scans---a remote OEM scan supported by ASE and I-CAR certified technicians or a local car side OEM-compatible scan. Our asTech adasThink imports the estimate data and compares the OEM repair procedures against the lines of labor that they have on their estimates. Using the data in the estimate, adasThink identifies the calibrations and safety features or functions that need to be done on the vehicle to make sure it's fixed properly. We use our Tru-Point ADAS calibration system to enable calibrations with 100% OEM tooling when we complete our repairs.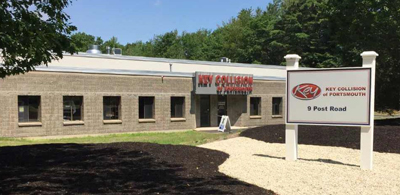 "So, we are obviously all-in with asTech and pleased with their products and their incredible support."
Morgan should also be very happy with the money he's saving by using his asTech diagnostic tools.
"We do roughly 35 calibrations every month and before I got here, most of them were going to the dealership. Sometimes it would take two days to get the vehicle back, which hurts our cycle time. By using asTech to its full capabilities, we are delighted with the overall results. Maintaining full control of our diagnostics is a huge deal and the entire company is benefitting greatly from the decision."
Jamie Virgue was hired at Key Collision as a detailer, but now she's handling most of the shop's scans and calibrations, using asTech every step of the way.
Morgan is thrilled with Virgue's progress. "She's doing all of our calibrations, and we couldn't be any happier with the results," he said. "She is driven and motivated and a fast learner, so she has quickly become an essential team member. She created her own niche, and that's what we love to see. She's in her 20s, so she can have a great career in this industry as an automotive diagnostic technician."
Current OE data is vital to a shop that repairs 200 vehicles every month.
"So, if we need them to pull something, we send out an email and pull a position statement from the manufacturer telling us what has to be done. asTech is really on top of it when it comes to all the OEM information, so we always have what we need."
asTech, a Repairify company
5700 Tennyson Parkway
Plano, TX 75024
John Wise, Director of Marketing Communications
John.wise@repairify.com
(469) 397-4256 x 11413
Serving California, Arizona & Nevada
Facebook: @asTechDrivenByRepairify/
Instagram: @asTech_official
LinkedIn: @company/astechDrivenByRepairify
Twitter: @astech_official
To read more auto body shop profiles from the October 2022 Shop and Product Showcase, click here.