SCRS Meeting Includes Presentations from State Organizations in Ohio, Indiana
Written by John Yoswick, Autobody News
Published Aug. 10, 2023
The executive director of the Ohio Board of Motor Vehicle Repair said it now primarily uses administrative hearings to enforce the state's shop registration requirements---rather than injunctions and locking violators out of the facilities where they are repairing vehicles.
Speaking at a Society of Collision Repair Specialists (SCRS) meeting in Indianapolis this summer, Mike Greene said the state's current attorney general prefers his organization give suspected violators 30 days' notice to attend a hearing to explain to the agency's seven-member board---which includes five collision repairers---why they think they don't need to be registered, and that enforcement method is working.
"We've sent out a lot of those notices, and nobody has asked for a hearing," Greene said. "Everyone has called and we've come to an agreement."
About 2,000 businesses in Ohio are registered with the board, including body shops, auto glass shops, airbag repair and replacement companies, paintless dent repair providers and window tint installers. Unlike a more comprehensive licensing program, registration primarily requires a business provide evidence of having garage keepers' insurance, a tax identification number, an EPA permit number and unemployment insurance.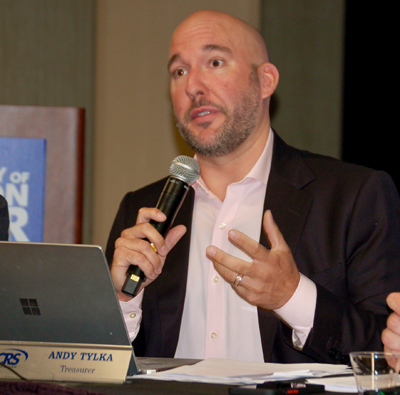 The goal when the board was formed in the late 1990s---originally registering collision repair shops only---was to level the playing field, "so shops doing everything right weren't having work taken away by back yard shops with no overhead," Greene said. Registered shops "see the benefit when they see Joe down the street now has to up his game a little bit because before there was no consequences, but now there are," he said.
The board's five-person staff includes two field investigators who often are tipped off by registered shops to work being done at unregistered facilities. He said those investigators often will find evidence of other violations at those unregistered facilities: improper handling of hazardous waste, tax fraud, paying workers "under the table," stolen vehicles and parts, or, in one case, conversion of semi-automatic weapons to fully automatic in what was designed to look like an auto repair shop.
"Now we can't investigate all that, but we can get the right agency in there," Greene said.
The board has pushed for changes over the year to expand the requirements---such as adding registration of mechanical shops, prohibiting insurers from making payments to an unregistered shop, or licensing or training requirements for individuals working in the industry---but hasn't found enough legislative support. That's in part because "the insurance companies are very powerful in Ohio," Green said.
That said, the state's Department of Insurance about 10 years ago did put out a letter saying registration is required for any shop on an insurer's director repair program. And contrary to what some shops may think, registered shops aren't subject to more regulatory scrutiny, Greene said, pointing to one Ohio collision repairer who is on the board of both SCRS and Ohio Board of Motor Vehicle Repair.
"There's probably never been an investigator in Mike's shop," Greene said. "Because if he doesn't give me a problem, I'm not going to waste my time. That's the way it usually works."
Also speaking at the SCRS meeting, Andy Tylka, president of the Indiana Auto Body Association (IABA), said that organization has worked with the state's Department of Insurance (DOI) to develop a third-party complaint form that allows a shop to file a complaint on behalf of a customer.
"Now body shops can put the correct verbiage into these complaints, because these issues are very complex because the vehicle safety systems are very complex," Tylka said.
The work with the DOI, he said, was part of the association's effort to "move away from the legislative side" and get more involved with insurance regulators.
"Which was fantastic, because they didn't even know we existed," Tylka said of the DOI. "The collision repair side was just not a focus of theirs."