Page 1 of 2
Rivian Expands its Certified Collision Network as Production Increases on Adventure EVs
Written by Stacey Phillips, Autobody News
Published May 9, 2023
Since the first collision repair facility joined Rivian's Certified Collision Network (RCCN) in Oregon in July 2020, more than 30,000 Rivian electric adventure vehicles have been manufactured and 135 shops are part of the RCCN program.
Frank Phillips, senior manager, certified collision North America at Rivian, discussed the OEM's certified collision network program during the AkzoNobel ACOAT Selected North American Performance Group (NAPG) event in Florida earlier this year.
Rivian was founded in 2009 as Mainstream Motors by Robert "RJ" Scaringe and later renamed Rivian, a wordplay on the Indian River in Florida, where Scaringe grew up. The company, headquartered in Irvine, CA, began focusing on autonomous and electric vehicles (EVs) to create products and services that help the planet transition to carbon-neutral energy and transportation.
Today, Rivians are built in the U.S. at the company's approximate 4 million-square-foot manufacturing facility in Normal, IL, a former Mitsubishi factory.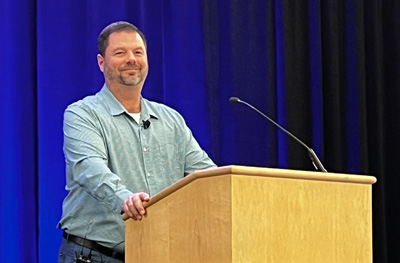 Currently, three products are being produced. The OEM's flagship R1T, introduced in September 2021, was ranked "Best EV Ownership Experience among premium Battery Electric Vehicles" by J.D. Power in 2023.
The company also manufactures a seven-passenger SUV, the R1S, which received the Insurance Institute for Highway Safety (IIHS) TOP SAFETY PICK+ for the 2023 model year. In addition, Rivian has been contracted to develop and manufacture 100,000 electric delivery vans (EDVs) for Amazon.
Currently, Rivians can be purchased online. As part of owning one, the auto manufacturer offers insurance policies to customers in 48 states through Rivian Insurance Services, LLC. The agency provides auto, homeowners, renters, umbrella and more.
Phillips said the OEM has created a unique culture with a personalized customer experience.
"We have loyal customers who have stood in line for four years in some cases---when the Rivian was launched in 2018---to get their vehicle," said Phillips. "We still have several others patiently waiting to get theirs. It's important to us to create an experience that returns that loyalty."
Rivian has established a similar experience and culture with its certified network program.
"We believe it is really going to disrupt what many of the OEM programs around the country have done traditionally when it comes to certification," said Phillips. "We want to make sure that shops are properly trained, educated and equipped to fix the Rivian safely and properly."
He said Rivian's approach is to revolutionize the industry by creating an efficient and highly trained collision repair network.
"That's our focus every day," he said. "When we wake up and come to work, we start thinking about how we are going to help our collision certified network become better and continue to improve."
The certified network consists of four programs, one for its passenger vehicle line, another for the OEM's commercial line, which allows facilities to repair Amazon EDVs, and a third for the business-to-business segment. In addition, a new program is being introduced this year for diagnostic certification focused on calibration.
In addition to Phillips' counterpart in Amsterdam, Hank Berkhof, the team is led by Kelly Logan, senior manager of collision repair, and his engineering team, which includes Dan Black, manager of service engineering; David Sosa, manager of the R&D workshop; Brandon Chittenden, manager of service vehicle data; and Taylor Jozwiak, technical collision repair operations manager.
Phillips said they are all experienced technicians who have worked in body shops in different capacities. "They've all been boots on the ground in that difficult situation that you guys find yourselves in every day, and that's fixing the car that has been wrecked," he said.
The team regularly visits its network shops to offer support and ensure their success. In addition, Rivian has a vendor program geared toward business-to-business relationships.
Rivian's service engineering department uses CAD to determine how to repair cars safely and properly and then develops clear, effective and efficient repair and calibration procedures, ensuring compliance.
The procedures are then sent to the collision research and development workshop, where a hands-on validation of the repair procedures, tools and equipment is performed at the OEM's collision center to ensure accuracy and quality.
"We do everything from paint to structural repairs," explained Phillips. "It's important that we make sure our paint color matches the availability of formulas."
Collision centers that are part of Rivian's certified repair network are then provided with the vehicles' repair methods and procedures.